Jarrod Dickenson Video Premiere of 'Nothing More'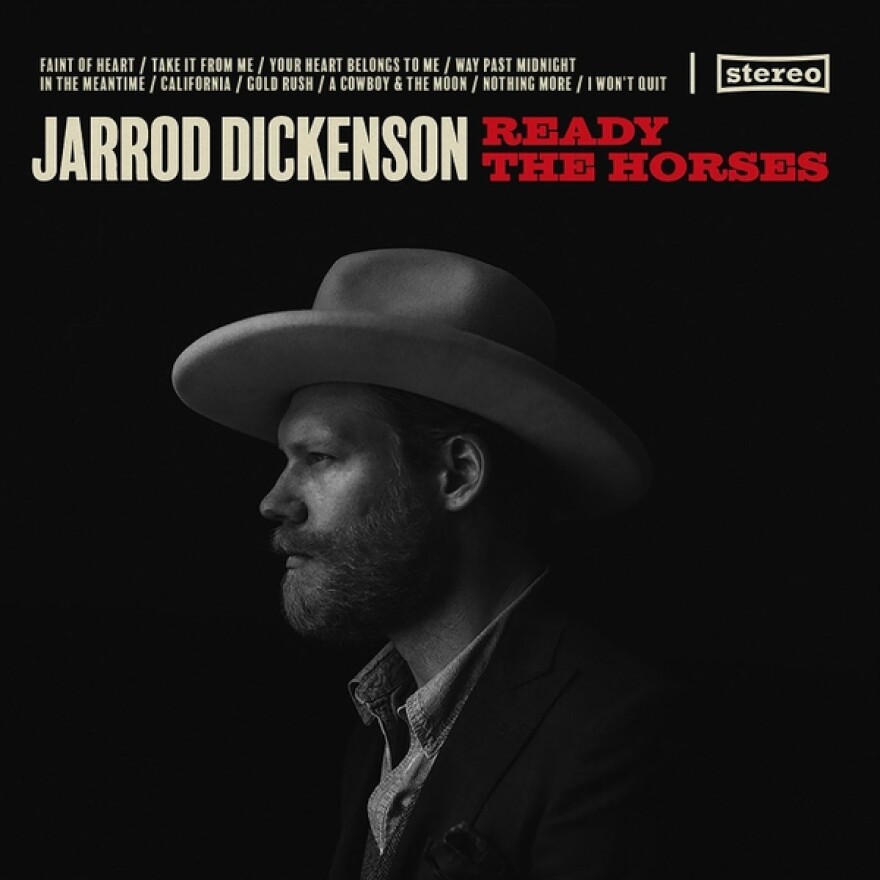 Jarrod Dickenson ? Ready the Horses ­­? May 22, 2020 (Hooked Records)
by ANA LEE ? JUNE 5, 2020
Last year when The Local Brew was a new concept at WMOT I spoke with Nashville, by way of the UK duo, Ida Mae and they suggested I check out their friend and fairly new Nashville resident, Jarrod Dickenson. I'm sure glad they did as I was drawn to his sound and his straight from the heart storytelling. It's been a long time coming, but he just released his album Ready the Horses. In this edition of Liner Notes, we'll get to know Jarrod Dickenson and premiere the video for the track, "Nothing More."
Ana Lee:
You're originally from Waco, Texas, but you've done some globe-trotting, with stops in Brooklyn, Los Angeles and a fateful trip to a songwriting festival in Belfast. Tell us a little about your journey.
Jarrod: It's true, I've bounced around quite a bit since I left my hometown in 2006. I first moved down to Austin to finish college at the University of Texas, and to get plugged into the Austin music scene. That's really where I cut my teeth as a young songwriter and performer. In early 2010 I decided that, while I loved Austin, I needed to see what else was out there. I decided to give up my apartment, quit my day job, and I hit the road. I managed to book myself a month-long tour of the west coast, something like 26 shows in 31 days. Now, it's important to note that I had never even been to the west coast in my life, much less ever played shows in any of these cities, so how I got it in my head that this was how you tour is baffling to me now! As one would expect, almost all of those shows were played to the door guy, the sound guy, the bartender and no one else. Financially speaking, that tour was a disaster, to put it kindly, but I discovered during that month of driving myself over 3,000 miles across the country that I loved being on the road. I loved driving to a new place every day. I loved the feeling of singing my songs to anyone, even the door guy, the sound guy and the bartender, and the few shows where there was actually a crowd present gave me the biggest rush I'd ever felt. I learned a lot of how not to do things moving forward, but also, I realized on that tour that this was exactly what I wanted to do with my life. No question about it.
After a few months of essentially living out of my car, I moved to Nashville for the first time. A buddy of mine from Austin, Seth Walker, had moved to Nashville maybe 6 months earlier, and he off-handedly mentioned one day that a room was opening up in the house that he was renting. I had honestly never considered moving to Nashville until that moment, but I wasn't currently paying rent anywhere, and I thought it could be a good learning experience for me to be in another city, surrounded by working musicians. So, within a few days of him casually saying a room was up for rent, I was driving all of my belongings up to Nashville! The house I lived in was on Caruthers Ave, right off of 12 South, and it consisted of myself, Seth, Guthrie Trapp and Jedd Hughes. So there was a serious amount of talent hiding under that roof, humbling excluding myself. It was a really great and educational experience for me being surrounded by those guys. Seth and I became close friends, and started writing songs together during that period, which was really my first experience with co-writing. That was ten years ago now, and we haven't stopped writing together since! We've managed to write quite a few songs that have ended up on both of our albums, which I think is pretty special. I lived in that house for a little over a year, and then moved up to New York with a brief stop in Los Angeles in between, when I made my album, The Lonesome Traveler. I lived in Brooklyn for five and a half years, during which time I started touring the UK. On my second trip to Belfast, Northern Ireland I met the woman who would later become my wife. I was performing at the Belfast Nashville Songwriters Festival, and Claire, who was working in advertising at the time, was volunteering at the festival. We happened to meet, quickly hit it off, and that was that! We ended up dating long-distance between New York and Belfast for three and a half years, and we've now been married for almost five years.
Ana Lee: After recording Ready the Horses on the south coast of England, the album was released on Decca Records in the U.K. It took a little while for the U.S. release to see the light of day, but it's out now on Hooked Records. There are some down and dirty old west vibes in the song Gold Rush, beautifully tender moments in songs like California and Nothing More and I find it impossible to sit still during Way Past Midnight! Would you tell us a little about writing the record and was that here or in the UK?
Jarrod:
Yeah, I often refer to this album as "The Little Record That Could"! It's been quite a journey getting it out there for people to hear. I made the album on a shoestring budget with a bunch of friends at a studio on the southeast coast of England called Echo Zoo Studios. We had been on a month-long tour supporting The Waterboys for 21 dates across the UK, playing beautiful theatre after beautiful theatre. The day after the final show we all crammed into this studio that was owned by a friend of a friend, and spent the next three and a half days cutting the whole record live, straight to 2" tape. It was the most fun I've ever had in the recording studio. We spent the next year and a bit pitching it to various labels, and Decca ended up picking it up in the UK. It was supposed to get a worldwide release then, but as often happens with labels, things didn't go quite to plan! The album came out in the UK, but not really anywhere else, and we had to do a fair bit of fighting to get the rights back, and keep it from essentially just being shelved. To say that I'm excited to finally have it out there for people to hear would be a pretty sizable understatement!
As for the writing of the record, virtually all of the songs on the album were written while I was living in a 250 square foot apartment in Brooklyn, NY. I was very much in the middle of the rat race in the city. If I wasn't on the road touring, I was working 7 days a week in a hat store on 5th Ave to pay my bills. While the record isn't necessarily about New York, I think the energy of the city, and certainly the struggle of running yourself into the ground day after day just to get by seeped into the songs.
Ana Lee: Thank you for letting WMOT premiere your new video! The stark setting really works for your stripped-down take on the song, "Nothing More". Where was it filmed?
Jarrod: Back in December, Claire and I filmed a special acoustic version of the song "Nothing More" in Belfast with a filmmaker called Joe Laverty for a series he produces called Whisper Project. The idea is that he films music videos in specific locations around Northern Ireland that are abandoned and likely to be torn down at some point. It's sort of his way of preserving those places. We filmed this inside the old UTV television studio that is now empty. Since the building isn't being used there was no heating in the building, so it was absolutely freezing when we filmed this!

Ana Lee is on middays at WMOT, and is also the host of The Local Brew Hour, which airs Sundays at 7am and Mondays at 7pm on 89.5 WMOT and wmot.org.