Foster McGinty – Video Premiere for "Juanita"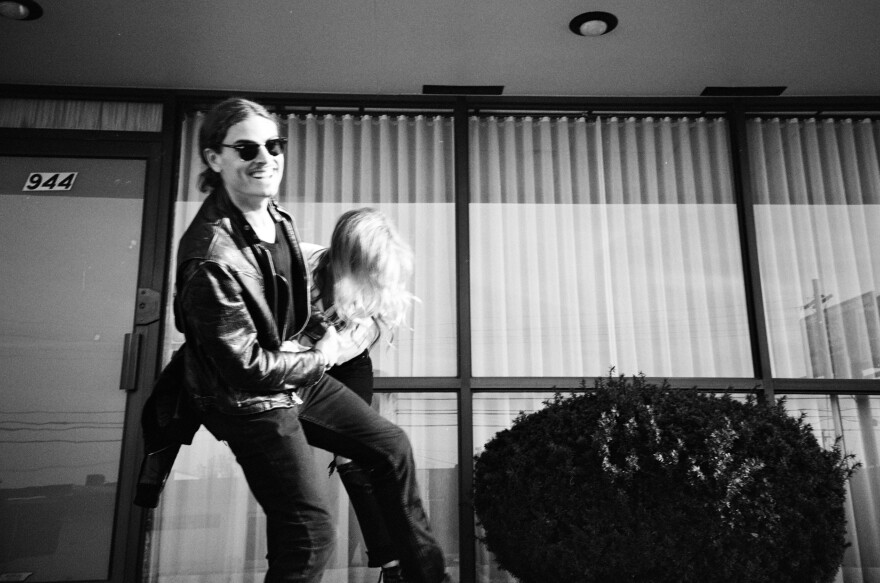 Discovering new music is hands down the best part of my job. For me, obviously because I love music, but it's also rewarding to share new music with you every day on the radio, each week on the Local Brew Hour, plus here in Liner Notes. There's something about Foster McGinty's catchy, upbeat, Stonesy sound - complete with crunchy guitars, background vocals and harmonica that offers a bit of brightness and fun in these dark and serious times. Foster McGinty was born in Memphis, Tennessee but grew up in southeast Missouri and has lived in Los Angeles, New York and now here in Nashville. I asked him if the influences of those cities helped shape his sound and about the new video for "Juanita", which we are happy to premier today, in Liner Notes.
AnaLee: Your sound is straight up feel-good, harmonica and guitar infused rock 'n roll and I love it. It's refreshing to hear new music with a familiar feel, especially in these times. Tell us a little about where you grew up, if music was a part of your childhood and if you think the cities you've called home over the years have influenced you as a writer and musician?
Foster: The harmonica was integrated into the music when we were playing a lot of long acoustic sets. I wanted to break up the guitar solos, so Braden Land added harmonica and a second guitar to the set. Braden is playing the harmonica on the record. He's fantastic.
I grew up in the "Bootheel" of Missouri in a town on the banks of the Mississippi River called, Cape Girardeau. When I lived there the music scene consisted mostly of cover bands playing smokey bars, not much of a scene for an aspiring songwriter at the time which is why I left. My uncle Chuck always had the best bands in town from the 60's up until recently. He and my dad started a Top 40, Motown cover band when I was in junior high and I used to watch their rehearsals in our basement and go see their shows. They would play songs by Sam and Dave, Wilson Pickett, John Cougar Mellencamp, and The Rolling Stones. Sometimes I would sit in with them on guitar. My uncle taught me how to be a bandleader and my dad has some of the best ears I can think of. They exposed me to a lot of the music that still influences me today. After leaving my hometown I ended up in Los Angeles (the Valley actually!) very briefly, it didn't really work out for me there. A move to New York City set things on fire for me. I earned my stripes as an artist in New York City writing, recording, and playing a lot of shows on the village circuit for years. It is also the city where I met my wife, Chelsea, when I sold her a pair of cowboy boots in Soho.
AnaLee: It seems like forever since we've been trying to plan a show for the Local Brew with you, but covid changed our plans and even though we've all slowed down this year, you've been staying busy getting a new album, Mimosa Drive, ready for release. I can't wait to hear the rest of this record. I am a big fan of your last ep, New Shackle Island and it's a pleasure to premier the video for a song from that ep, "Juanita". Your wife, Chelsea McGinty provides perfect background vocals – on all of your songs, really – and she also stars in this video. Tell us about the song, working with Chelsea and about putting the video together, a few years after the footage was shot.
Foster: Oh man, I cannot wait to plan a show with The Local Brew! I miss playing and seeing music so much. The lyrics for Juanita were inspired by true events while working on a local super successful artist's house. The name "Juanita" just fit the melody; it has nothing to do with the real story. It was just an interesting observation and one I could personally relate to. "Juanita", like all of the songs from the New Shackle Island EP, was produced by Keith Gattis and features Audley Freed on lead guitar. Working with Keith and all of the musicians on that EP was one of the coolest moments of my life thus far. World-class musicians and even better people. When the EP was done PR campaigns and radio campaigns were put into motion. I quickly got burnt out by the music business and pulled back. We had just finished shooting the video and it was put on the shelf. Then, we had our little girl, Lyric, and before you know it, three years have passed! It was really cool returning to the video footage with fresh eyes and a new appreciation for it. Amanda Young, the director, did a fantastic job. Chelsea has been in more music videos than anyone I know, so I am grateful to have her in mine. She is the best partner I could ask for. She has a way of seeing and hearing things in ways I cannot. I love her voice and she has written a few songs herself that made it on to New Shackle Island. She is a New York City "It" girl and she continues to teach and inspire me.
AnaLee: I'll be premiering another song called "Keep It In High Gear" from Mimosa Drive this Sunday at 7am on The Local Brew Hour, thank you for that! Can you tell us a little about that track, and about another new song we've already played called, "Karma" featuring that exceptional fiddle from Nashville's Lillie Mae along with Kyle Everson on pedal steel?
Foster: "Keep It In High Gear" was written while on a road trip to our former home base before moving to Nashville, Woodstock, NY. We were in Woodstock on part of our acoustic tour and the song came to me right before the gig. I would have played it that night, but I didn't have any lyrics! Just music and melody. The lyrics ended up being directly inspired by all of the driving we were doing at the time. A determined, weary traveler on a dark, hypnotic highway kept coming to mind. I suppose the lyrics are autobiographical to a degree. We have done a lot of traveling on Highway 81—that long stretch of road is colorful and provided a lot lyrical inspiration for this track and another from the record. I took "Keep It In High Gear" into the studio in January of 2020 with Fred Eltringham on drums and Robert Kearns on bass at Welcome To 1979 here in Nashville. The rest of the song was tracked at my studio, Mud Pan. When Braden Land added harmonica and then John Henry Trinko added keys, the song took on this T Rex meets the Yardbirds vibe to me.
I decided to dig "Karma" up again at the beginning of quarantine because I had the time and I felt the message was timely. It is actually an old song from a record of mine that was never released. The bulk of the track was recorded at the old Neumann Leathers building in Hoboken, NJ back in 2013. The bass and drums aside, I redid the song at my studio and was very fortunate to have Lilly Mae on fiddle. She came over to the studio and just knocked it out. She took the track to another level. The same with Kyle Everson and his pedal steel. I love the Nashville flavor they added.
AnaLee: There are a few other songs I know are done that I've been lucky enough to hear! Is the album finished or are you finding new inspiration throughout this year and continuing to add to it? Or, maybe we'll get some bonus tracks along the way?
Foster: The record is written and almost fully tracked and finished. At the beginning of the year, I decided to get a degree in audio engineering at The Blackbird Academy in Nashville, which meant I had to postpone working on the record for a while. I am back in the thick of it again now. Most of the record is being done out of my studio, Mud Pan, which is a double-edged sword. I've got just about everything I need at my fingertips and free studio time which is the upside, but Chelsea has to cut me off sometimes and say, "I thought that song was finished last week… move on to the next one!" Sometimes it's hard to say something is done and walk away. There is so much to write about these days and I feel like I am in a good creative groove, so I am sure I will have some bonus tracks along the way!
Foster McGinty's new album, Mimosa Drive is due in Spring/Summer 2021.
Foster McGinty, "Juanita"
Ana Lee is on middays at WMOT, and is also the host of The Local Brew Hour, which airs Sundays at 7am and Mondays at 7pm on 89.5 WMOT and wmot.org.