Jenee Fleenor's Nashville Triple Play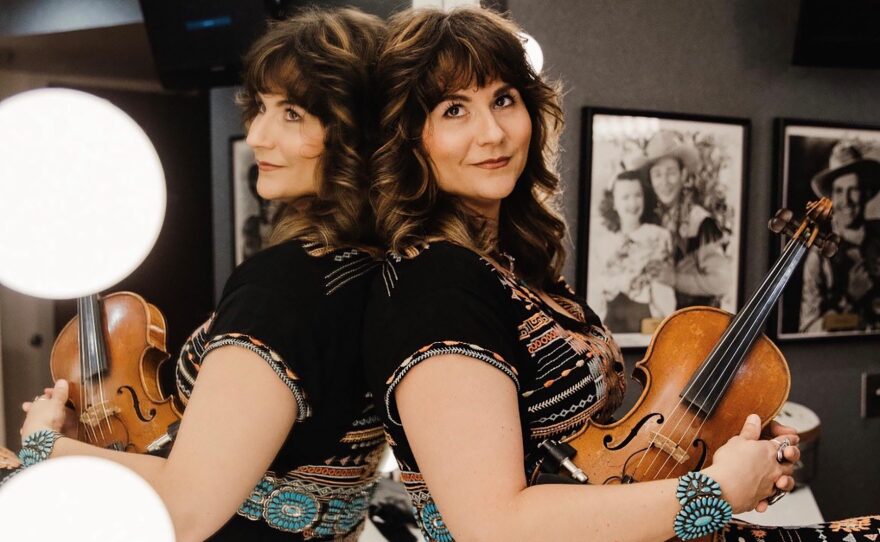 In her single "Good Ol' Girls" released earlier this year, Nashville's Jenee Fleenor sings of a little kid in Arkansas who starts fiddling country tunes learned by ear from her parents' radio. In the next verse, she moves to Nashville at 18 years old, lands her first job and plays on the Grand Ole Opry stage in a matter of days.
"Every bit of it's true," Fleenor says in Episode #128 of The String. "I listened to Bob Wills and Ray Price and Willie Nelson in the background of my life. I played classical music, starting when I was three. But I heard all these country music records, and by the time I was five I started playing 'Faded Love' for my Mom and Dad."
What's not in the song is the latest career landmark. Fleenor becoming the first woman to win the Country Music Association's Musician of the Year Award, an honor bestowed last Fall. Long an active studio and stage musician and songwriter, she's putting her toe in the water of recording original material. As the title of her other single, the yearning "Fiddle and Steel" suggests, her heart is in country music's roots, while her fiddle and voice have gone where the work has taken her.
Her first gig, the one that surprised her at age 18, was supporting the brief major label career of the iconoclastic stylist Matt King. Then she worked stretches with Larry Cordle, Terri Clark, Martina McBride and neo-traditionalist hit maker John Pardi. Of late she's supported the tours of superstar Blake Shelton and the country-rock crossover project of Aerosmith's Steven Tyler. You'll hear her as well on indie projects like the recent hard country album by Noel McKay and Brennen Leigh, where Fleenor's fiddle dazzles in its own spotlight.
"I kind of skate this line," she says about negotiating the industry's musical sectors. "I love, love, love playing bluegrass, and I could just sit and jam all day. You know, I hear bluegrassers or whoever complaining that (country music) ain't what it used to be. But it's always changing, and people have to remember it is a business, and we have to make a living. There's a lot of stuff on the radio that I don't love. But I get it. I love every aspect of the business. I love the songwritery stuff but on the other hand there's some commercial stuff that I think's fantastic."
Fleenor's interest in the songwriter side of the music grew on her as a young musician in Larry Cordle's bluegrass band. He's an award-winning writer who'd bring new material to the band's biweekly gigs, and Fleenor began to realize she'd been hearing music as an instrumentalist almost exclusively. "I'm embarrassed to say that I didn't pay much attention to the lyrics," she tells me. "And I quickly realized oh my gosh I'm missing something here. This is a very important piece to the puzzle. And now playing on so many sessions, the song tells you what to play."
The insights gleaned with Cordle led to an accelerating interest in writing songs herself, and eventually those songs started getting recorded, by Dolly Parton and the Grascals, by Del McCoury and on to country stars including Shelton, Reba McEntire and Montgomery Gentry. In an industry that tends to slot creators into lanes - instrumentalist or songwriter or recording artist – Fleenor is mixing things up and doing well by it. No fiddler had been even nominated for the CMA Musician Of The Year in a couple of decades, so she's defying convention and expectations in more ways than one.