On The String: The Low Profile and High Art of Multifaceted Nashville Cat Mac McAnally
For one of the most successful professionals of the past thirty years in Music City, Mac McAnally rarely gets his name in lights. But if you follow country music even casually, you've probably heard that name called out for ten nearly consecutive years during the CMA Awards for winning its prestigious Musician of the Year award. He's also in the Nashville Songwriters Hall of Fame. He's filled about every role a musician can fill on stage, in studio and on his own records, but is he famous? This is, to him, immaterial.
"I'm a farm kid from North Mississippi, and we were sort of raised that it's not a positive character trait to call attention to yourself," he told me before we started rolling tape for Episode 141 of The String. "So the irony of being in show business for quite a few decades is not wasted on me. But my nature is to try to be of use to somebody that has more ambition than myself."
LISTEN TO MAC MCANALLY ON THE STRING, STARTING AT 33:30.
McAnally's career has a Zelig-like quality, having served in the creative trenches with a murder's row of musical minds, including George Martin, Jerry Wexler, Rick Hall, Roy Orbison, Hank Williams Jr., Owen Bradley, Tony Brown, Garth Fundis, Dolly Parton, Linda Ronstadt and a bunch more. The 63-year-old has been most frequently heard in recent years doing steady job as part of the touring band and songwriting collective behind Jimmy Buffet. And has he puts it, here and there in the cracks of his packed schedule, he's kicked out fourteen solo albums that defy genre categorization. His newest is Once In A Lifetime, a project that comfortably balances roots and pop timbres, that showcases immense command of songcraft and guitar picking and that reveals him as an heir to the versatile musicality of Roger Miller and Jerry Reed.
The town was Belmont, MS where McAnally learned his early musical chops at church, and apparently, the ranks of competent keyboard and guitar players in the area were so thin that at age 13 he was "drafted" into working bands playing north of the Tennessee border, where there were honky-tonks because in that promised land alcohol was legal. Wildly under-age, Mac was nervous about leaving the stage during band breaks, so he'd sit and play solo to pass the time. These border bars were a refuge for the studio cats from nearby Muscle Shoals, AL (also in a dry county), so they heard the red-headed kid and pulled him into their orbit as a rhythm guitar player. And suddenly Mac was hopping from one studio to another, working for stars and journeymen alike in one of the most dynamic and important music business scenes in the country. Before long, McAnally was plying the well-worn highway between Muscle Shoals and Nashville, playing sessions and writing songs for Music Row.
Yet another shy-guy moment led to a parallel career as a recording artist. One day in Muscle Shoals, a featured artist missed a flight and couldn't make a scheduled session. The pickers started laying down songs they'd written with their spare time, and eventually they coaxed the new kid to sing one. He offered up "It's A Crazy World," and next thing you know (it was a different time) he had a pop recording contract and the song became his first single off his first album, released in 1977. Across those grooves and the many albums that followed, we hear Randy Newman style piano rock, hard country, adult pop and organic singer/songwriter, as appropriate.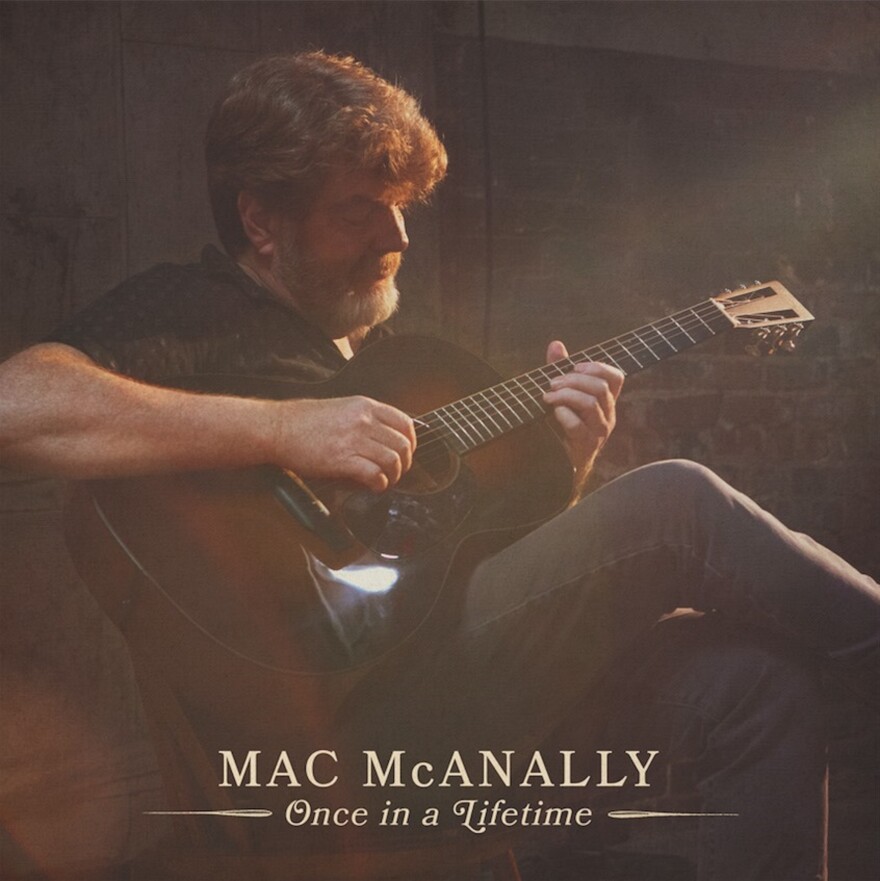 That kind of approach keeps the listener happily on her toes throughout the new Once In A Lifetime as well. Opener "Alive And In Between" sets a slick finger-picked verse riff against a sunny, accordion-colored chorus. The title track brings a seize-the-day positivity that Mac admits isn't the tenor of the times, but he claims to be a "glass three-quarters full guy." The rootsiest song here may be "First Sign Of Trouble," a Jerry Reed influence acoustic soliloquy that positions us sonically about an inch from his guitar's sound hole. And "That's Why They Call It Falling" is a delicious pure country ballad that lets us hear Mac's voice conjure velvety emotion and impossible to hit low notes that sell the song.
Americana, country, pop and R&B. "I have straddled those things over the years," he says. "I'm very grateful for everything I've been able to do."