Searching For Unity In 'Dolly Parton's America'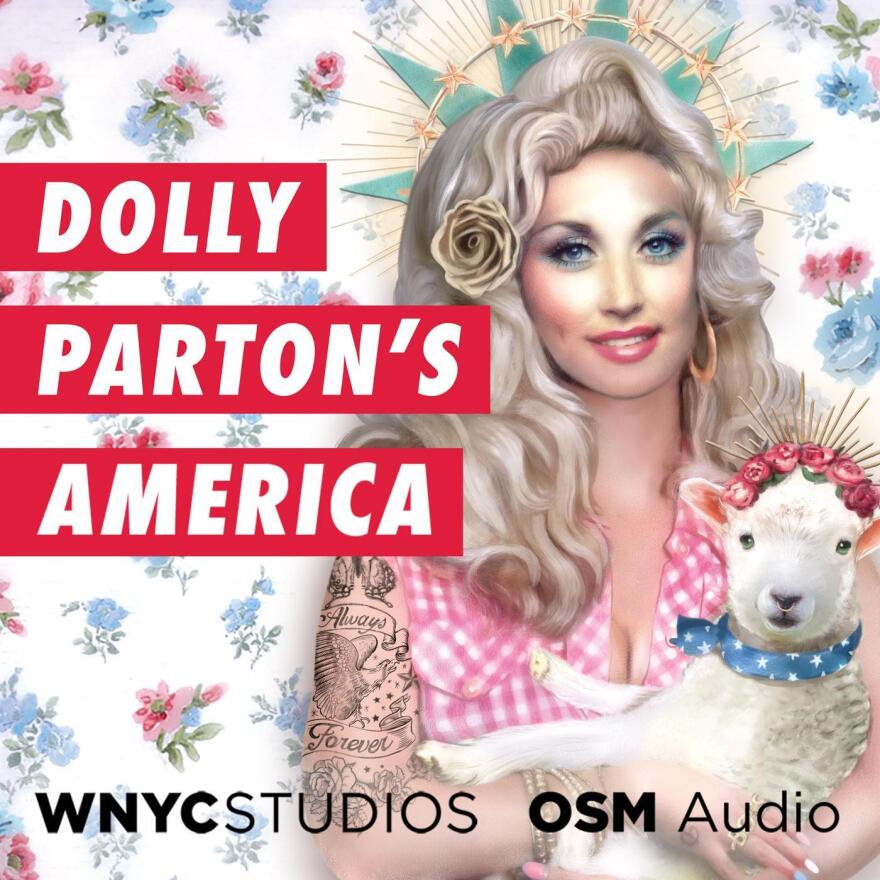 In 2018, the podcast Cocaine & Rhinestones became a hit in the roots music community with its idiosyncratic dives into the lives and vices of iconic country artists. Country music's podcast of the moment is Dolly Parton's America, a nine-part series from WNYC and NPR devoted to a single, and singular, country star.
Its premise is that Dolly is a rare, unifying figure in a polarized America, a cultural icon whose fan base encompasses all races, regions, sexualities and creeds. Series host Jad Abumrad says that yes, it's a radio documentary about key episodes in the artist's life and career. "At the same time I wanted to create a sense that Dolly is a kind of multi-verse, an entire universe of stories," he said in an interview from New York. "There's the story of her music. There's the story of America. There's the story of the South. There's the story of politics."
Episode 8 for example, out this week, grapples with romanticizing the Civil War, the loaded term Dixie and the battle over confederate statues. It even touches on the very current debate about possibly replacing Klan-founder Nathan Bedford Forrest's bust in the Tennessee state capitol with one of Dolly herself.
"To talk to Dolly," Abumrad says in the interview posted here, "is really to talk to the patron saint of the South and inevitably to confront certain ideas of the South, certain stereotypes that often people from the North kind of impose on the South."
The series has been in progress for years, originating in a quirk of fate and an inquiry into identity. Abumrad, a MacArthur fellow and perhaps public radio's most celebrated working producer (he founded the hit show Radiolab), grew up in Nashville. His father is a professor of surgery at Vanderbilt who emigrated years ago from Lebanon. Dr. Abumrad treated Dolly Parton a while back, after a minor car accident, and they became friends, which at least partially paved the way for Jad Abumrad to launch a series of interviews with a country star he regarded with fascination but limited understanding. It grew from there in unexpected ways.
"In the process, I started to wonder about the larger story of Nashville and the story of East Tennessee," Abumrad says. "And the series became a way for me to secretly re-investigate the history of these places. And I've gotta say in doing that I really fell back in love with Nashville - maybe fell in love with it for the first time in a way."
Along for the quest came Radiolab producer and reporter Shima Oliaee. Two non-white, first-generation Americans set out on the trail of Dolly - to her theme park Dollywood and girlhood home in East Tennessee, to a big theater premiere in London based on the movie 9 to 5, and to a classroom at the University of Tennessee in Knoxville where a group of undergraduates process the meaning and history of Appalachia through the cultural lens of Dolly Parton.
Through the episodes, they return to the theme of Dolly's ability to live an ethos of inclusion while meticulously avoiding statements that could align her for or against any political faction or party. And repeatedly, in her interviews, Dolly is able to cut through the brambles of academic theorizing with authentic country wisdom or a sunny reference to scripture. When she deflects any direct position on LGBTQ rights with a crisp "To thine own self be true," it's a miniature masterclass in healing rhetoric.
DPA makes a powerful companion to the new Ken Burns series Country Music. The former is a micro dive that reveals worlds of connectivity and commonality through the vehicle of a special country artist. Burns does a massive sweep of an American century, investigating a diversity of influences and cultural impact that is oft overlooked in media conversations about country. Abumrad caught the right story at the right time, when country, bluegrass and folk are more focused than ever on inclusion and amplifying marginalized voices.
In some of the most effective moments of DPA, Abumrad investigates his own place in America's country music story. "You look at an instrument like the banjo. It has traveled a long path from Africa into the Caribbean into the mountains of Appalachia," he said. "But you can also make the claim that the rhythms, the music, the melismatic singing styles have been gifted from the Middle East and other parts of the world. And there is no reason that we all can't hear ourselves in this music now. We can and we should. . . .Part of what I found so exciting personally speaking is that this music that was around me as I was growing up, that I always assumed was not for me, now I realize it is."
The final episode of Dolly Parton's America drops next Tuesday.