Tennessee lawmakers wrap election-year legislative session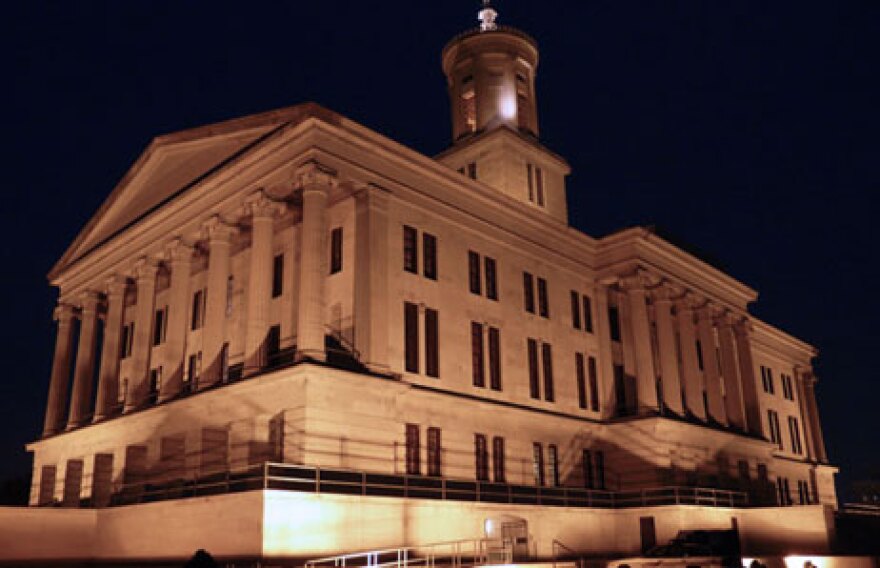 NASHVILLE, Tenn. (AP) — Tennessee lawmakers wrapped up an election-year legislative session late Wednesday, highlighting their last day by passing legislation that would require state and local law enforcement agencies to detain immigrants for deportation at the request of federal officials without requiring warrants or probable cause.
The session, which began in January, marked the last one for House Speaker Beth Harwell, who is seeking the Republican nomination for governor, and Republican Gov. Bill Haslam, who faces term limits. Harwell's voiced cracked with emotion as she gaveled out in the chamber.
The Republican leadership hit a couple snags that kept lawmakers a little longer than expected. The House and Senate tussled for more than seven hours over how to address a student testing snafu, then passed a bill to hold teachers harmless from the scores.
Then, the House got a scare when too few lawmakers voted to adjourn because Republican Rep. Micah Van Huss requested extra legislative days to pass a constitutional amendment that says that liberties "do not come from governments, but from Almighty God." On a second shot, they voted to wrap up the session and go home.
Earlier Wednesday, the House and Senate passed the bill that would ban local governments from adopting certain "sanctuary" policies, and threatens to withhold future state economic and community development money from localities that do. The bill had to be resurrected earlier this week after a House panel initially voted down the measure for the year. Its fate is now up to Haslam.
Most notably, local governments would have to comply with federal immigration detainers of people identified as in the country illegally.
The bill's passage comes on the heels of a federal immigration raid earlier this month that took 97 people into custody at an eastern Tennessee meat processing plant. On Wednesday, Republicans batted down Democratic amendments to the bill that would have penalized companies that hire 50 or more immigrants living in the country illegally, saying that should be done in a separate bill.
The bill has drawn harsh criticism from the Tennessee Immigrant and Refugee Rights Coalition, which called it "one of the most extreme, anti-immigrant proposals currently pending in the country."
Under the proposal, Republican sponsor Rep. Jay Reedy of Erin said Tennessee law enforcement would only act when directed by federal authorities. A fellow sponsor, Republican Sen. Mark Green, said someone would first have to be stopped by law enforcement for the possible commission of a crime. Green contended that any accusation that the legislation is racially motivated is false.
Proponents of the bill also brushed off worries that it could be struck down as unconstitutional.
"This bill does nothing to harm any person who's come to the United States or Tennessee legally," said Green, a Clarksville lawmaker.
Senate Democratic Caucus Chairman Jeff Yarbro said there aren't any sanctuary cities in Tennessee, and called the bill a "solution in search of a problem." Nashville proposed sanctuary city-like immigrant protections last year, but dropped the push.
Later Wednesday, the House and Senate passed an amended bill that says no adverse action could be taken against students, teachers, schools or districts based on the TNReady test results.
Lawmakers last week passed similar legislation. It addressed teachers by saying decisions about their employment, termination and compensation can't be based on the 2017-2018 school year tests. But House lawmakers were wary Wednesday that that bill wouldn't sufficiently protect teachers.
State education officials said last week there appeared to have been a cyberattack on the computer system of the testing company that administers the online test, temporarily affecting student access.