TPAC Marks 35th Year with Spectacular New Production of Phantom of the Opera, Six Debuts in 2015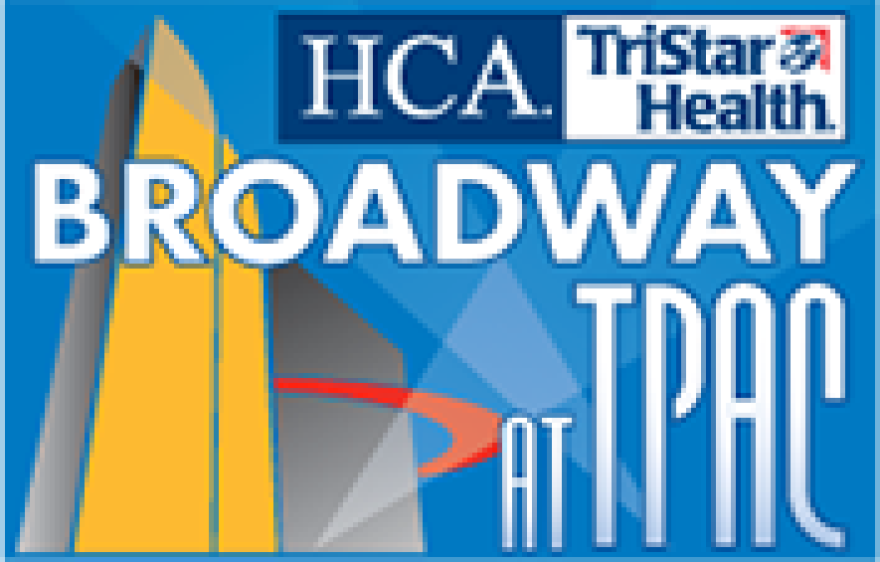 The Tennessee Performing Arts Center (TPAC) will celebrate its 35th anniversary with a storybook lineup that blends long-awaited returns with six of the hottest Broadway titles in its upcoming 2015-16 HCA/TriStar Health Broadway at TPAC series and Broadway special engagements.
Responding to years of feedback and anticipation from its growing and passionate Broadway fan base, TPAC announced Monday it will bring THE PHANTOM OF THE OPERA to Nashville in a spectacular new production for a two-week run in March 2016. This beloved blockbuster will be paired with six new Broadway titles making their Nashville debuts, including DIRTY DANCING and BULLETS OVER BROADWAY, as well as the Tony Award-winning hits MATILDA THE MUSICAL, MOTOWN THE MUSICAL, THE BRIDGES OF MADISON COUNTY, and IF/THEN.
Also, TPAC announced a trio of special Broadway presentations, including the first national tour of the 2013 Tony Award-winning RODGERS + HAMMERSTEIN'S CINDERELLA, which features a contemporary take on the classic tale. Other specials include the highly-anticipated returns of MAMMA MIA!, and NETworks presents Disney's BEAUTY AND THE BEAST.
"Our theme for the coming year is, 'Stories you remember, shows you'll never forget,'" said Kathleen O'Brien, TPAC president and chief executive officer, speaking to a crowd of season ticket holders, group leaders, donors, special guests, and media. "We wanted to offer audiences a chance to revisit some of their favorite Broadway productions as well as a chance to experience without boundaries the familiar characters, stories, and music from other titles in a way that only Broadway can provide."
O'Brien also expressed how fitting it is to welcome THE PHANTOM OF THE OPERA in TPAC's 35th year. Over multiple engagements, more people have experienced THE PHANTOM OF THE OPERA than any other title among the more than 280 Broadway touring productions presented at TPAC over 35 years.
"As we celebrate this significant milestone in September, I can think of no better way to mark the occasion than with one of our biggest and most beloved titles returning in spectacular fashion," said O'Brien. "No other Broadway blockbuster has played more weeks, sold more tickets, or impacted our connections within the industry than THE PHANTOM OF THE OPERA, and it remains one of the most requested shows in our surveys. To bring back such a favorite and pair with it six contemporary productions, illustrates perfectly from where we've come and to where we're going with our increasingly passionate audiences."
A full calendar of the 2015-16 HCA/TriStar Health Broadway at TPAC series and special presentations is listed below:
2015-16 HCA/TriStar Health Broadway at TPAC (Seven-Show Season)
Dirty Dancing – September 22 to September 27, 2015
Bullets Over Broadway – November 10 to November 15, 2015
Matilda The Musical – January 26 to January 31, 2016
Motown The Musical – February 16 to February 21, 2016
The Phantom of the Opera – March 9 to March 20, 2016
The Bridges of Madison County – May 10 to May 15, 2016
If/Then – June 7 to June 12, 2016
NOTE: Season ticket holders receive priority seating for the Broadway Special Add-ons, including:
2015-16 Broadway Special Add-ons
Rodgers + Hammerstein's Cinderella – October 20 to October 25, 2015
Mamma Mia! – April 26 to May 1, 2016
Disney's Beauty and the Beast – May 31 to June 5, 2016
Season tickets, season renewals, and group tickets are now available. The cost of a seven-show season package for the 2015-16 HCA/TriStar Health Broadway at TPAC series starts at just $170. Season ticket holders save over 30% versus purchasing each show individually. Single tickets for individual shows will go on sale approximately eight to ten weeks prior to the performance.
Season ticket holders receive exclusive benefits and services not available to the general public, including free ticket exchange privileges if their plans change, lower ticket processing fees, additional pre-sale offers to other TPAC-presented shows, and flexible payment plans.
Current season ticket holders will soon receive information on how to renew their tickets. TPAC Subscriber Services is accepting new orders, processed on a "first come-first served" basis after seating assignments are made for renewing season ticket holders.
For more information on the 2015-16 HCA/TriStar Health Broadway at TPAC series, visit us at TPAC.org/Broadway, where season tickets may be purchased, or call TPAC Subscriber Services at (615) 782-6560, or (800) 410-4216 if you live outside Nashville. You may also visit the TPAC Box Office at 505 Deaderick Street in downtown Nashville. For information on group tickets, call the TPAC Group Sales staff at (615) 782-4060.
Full descriptions of the titles in the seven-show season package and special add-ons are included below from text provided by the producers of each show:
DIRTY DANCING – THE CLASSIC STORY ON STAGE (us.DirtyDancingOnTour.com) An unprecedented live experience, exploding with heart-pounding music, passionate romance, and sensational dancing. Seen by millions across the globe, this worldwide smash hit features the hit songs "Hungry Eyes," "Hey Baby," "Do You Love Me?" and the heart-stopping "(I've Had) The Time Of My Life." London's Sunday Express says, "This crowd-pleasing stage adaptation hits the jackpot!" It's the summer of 1963, and 17-year-old Frances "Baby" Houseman is on vacation in New York's Catskill Mountains with her older sister and parents. Baby discovers her own entertainment when she stumbles upon the staff quarters where an all-night dance party is in full swing. Mesmerized by the raunchy dance moves and the pounding rhythms, Baby can't wait to be part of the scene, especially when she catches sight of Johnny Castle the resort dance instructor. Baby's life is about to change forever as she is thrown in at the deep end as Johnny's leading lady both on-stage and off with breathtaking consequences. Don't miss your chance to see this record-breaking and adventurous theatre sensation. You'll have the time of your life! Recommended for ages 12 and up. Presented locally by Monell's Dining and Catering.
BULLETS OVER BROADWAY (www.BulletsOverBroadway.com) Hailed by TIME Magazine as, "Musical Theatre Gold!," BULLETS OVER BROADWAY is the hilarious musical comedy about the making of a Broadway show. Written by Woody Allen, with direction and choreography by Susan Stroman and based upon the screenplay of the acclaimed film by Woody Allen and Douglas McGrath, BULLETS OVER BROADWAY is the story of a young playwright who, in desperate need of financial backing for his next show, accepts an offer he can't refuse from a mobster looking to please his showgirl girlfriend. Don't miss what the New Yorker exclaims as, "a Fun Machine from Start to Finish!" Loaded with big laughs, colorful characters, and the songs that made the '20s roar, BULLETS OVER BROADWAY is bringing musical comedy back with a bang. Recommended for ages 12 and up.
MATILDA THE MUSICAL (us.MatildaTheMusical.com/tour) TIME Magazine's #1 Show of 2013! Winner of 50 international awards, including four Tony awards and a record-breaking seven Olivier Awards, including Best Musical, MATILDA THE MUSICAL is based on the beloved novel by best-selling author Roald Dahl (Charlie and the Chocolate Factory, Fantastic Mr. Fox). It is the story of an extraordinary girl who dreams of a better life. Armed with a vivid imagination and a sharp mind, Matilda dares to take a stand and change her destiny. MATILDA THE MUSICAL is directed by Tony Award winner Matthew Warchus (God of Carnage), who helms this production with a book by Tony Award-winning playwright Dennis Kelly and music and lyrics by Australian comedian, musician and composer Tim Minchin. The production has sets and costumes by Tony Award winner Rob Howell, with choreography by Peter Darling, orchestrations, additional music and musical supervision by Christopher Nightingale, lighting by Tony Award winner Hugh Vanstone, and sound by Simon Baker.
MOTOWN THE MUSICAL (www.MotownTheMusical.com) It began as one man's story… became everyone's music… and is now Broadway's musical. MOTOWN THE MUSICAL is the true American dream story of Motown founder Berry Gordy's journey from featherweight boxer to the heavyweight music mogul who launched the careers of Diana Ross, Michael Jackson, Smokey Robinson, and many more. Motown shattered barriers, shaped our lives, and made us all move to the same beat. Now, experience it live on stage in the record-breaking smash hit MOTOWN THE MUSICAL!
THE PHANTOM OF THE OPERA (www.ThePhantomOfTheOpera.com) Cameron Mackintosh's spectacular new production of Andrew Lloyd Webber's THE PHANTOM OF THE OPERA will come to Nashville as part of a brand-new North American Tour. Critics are raving that this breathtaking production is "bigger and better than ever before" and features a brilliant new scenic design by Paul Brown, Tony Award-winning original costume design by Maria Björnson, lighting design by Tony Award winner Paule Constable, new choreography by Scott Ambler, and new staging by director Laurence Connor. The production, overseen by Matthew Bourne and Cameron Mackintosh, boasts many exciting special effects including the show's legendary chandelier. The beloved story and thrilling score, with songs like "Music of the Night," "All I Ask Of You," and "Masquerade" will be performed by a cast and orchestra of 52, making this PHANTOM one of the largest productions now on tour.
THE BRIDGES OF MADISON COUNTY (www.BridgesMusical.com) THE BRIDGES OF MADISON COUNTY, one of the most romantic stories ever written, is now an irresistible, two-time Tony Award-winning Broadway musical. Based on the best-selling novel by Robert James Waller, THE BRIDGES OF MADISON COUNTY tells the story of Iowa housewife Francesca Johnson and her life-changing, four-day whirlwind romance with traveling photographer Robert Kincaid. It's an unforgettable story of two people caught between decision and desire, as a chance encounter becomes a second chance at so much more. This stunning new production features gorgeous, soulful music by Tony Award-winning composer Jason Robert Brown (Parade, The Last Five Years) that draws upon the rich textures of Americana and folk and the sweeping, expressive balladry of classic Broadway. The Daily News hails it as "one of Broadway's best scores in the last decade." With a book by Pulitzer Prize Winner Marcia Norman (The Secret Garden, The Color Purple) and direction by Tony winner Bartlett Sher (South Pacific, The Light in the Piazza), THE BRIDGES OF MADISON COUNTY is "an evening you will cherish long after the show's over!" (NPR) Recommended for ages 12 and up.
IF/THEN (www.IfThenTheMusical.com) IF/THEN is a contemporary Broadway musical about living in New York today – and all the possibilities of tomorrow. With unforgettable songs and a deeply moving story by the Pulitzer Prize and Tony Award-winning creators of Next to Normal, this "fascinating, ambitious, and original new musical" (New York Post) simultaneously follows one woman's two possible life paths, painting a deeply moving portrait of the lives we lead, as well as the lives we might have led.
2015-16 Special Presentations
RODGERS + HAMMERSTEIN'S CINDERELLA (www.CinderellaOnBroadway.com/tour) Rodgers + Hammerstein's CINDERELLA is the Tony Award-winning Broadway musical from the creators of The Sound of Music and South Pacific that's delighting audiences with its contemporary take on the classic tale. This lush production features an incredible orchestra, jaw-dropping transformations and all the moments you love—the pumpkin, the glass slipper, the masked ball and more—plus some surprising new twists! Be transported back to your childhood as you rediscover some of Rodgers + Hammerstein's most beloved songs, including "In My Own Little Corner," "Impossible/It's Possible" and "Ten Minutes Ago," in this hilarious and romantic Broadway experience for anyone who's ever had a wish, a dream... or a really great pair of shoes.
MAMMA MIA! (www.MammaMiaOnTour.com) MAMMA MIA! is the ultimate feel-good show that has audiences coming back again and again to relive the thrill. Now it's your turn to have the time of your life at this smash-hit musical that combines ABBA's greatest hits, including "Dancing Queen," "S.O.S.," "Super Trouper," "Take A Chance on Me," and "The Winner Takes It All," with an enchanting tale of love, laughter and friendship. Whether it's your first visit or your fourteenth, see the show that has the whole world coming back for more, because every time feels like the first time at MAMMA MIA! Presented locally by Grand Central Barter.
NETworks presents Disney's BEAUTY AND THE BEAST (www.BeautyAndTheBeastOnTour.com) Disney's BEAUTY AND THE BEAST is the classic story of Belle, a young woman in a provincial town, and the Beast, who is really a young prince trapped in a spell placed by an enchantress. If the Beast can learn to love and be loved, the curse will end and he will be transformed to his former self. But time is running out. If the Beast does not learn his lesson soon, he and his household will be doomed for all eternity. Presented locally by Corrections Corporation of America.
The 2015-16 HCA/TriStar Health Broadway at TPAC series is supported by The HCA Foundation on behalf of HCA and the TriStar Family of Hospitals. Institutional sponsors for TPAC include Nissan North America and Coca-Cola. TPAC is funded in part by support from the Tennessee Arts Commission and the Metropolitan Nashville Arts Commission. Media sponsors for the season include The Tennessean and NewsChannel 5.
TPAC reminds ticket buyers that the only official place to buy tickets online is TPAC.org.