The National Museum of African American Music Begins Its Journey At 5th And Broad
It's still a year and a half away from opening, but there is every reason to start getting excited now about the National Museum of African American Music. You may have been hearing about this project for years, because it's been on the drawing board for years, as far back as 2002. Its location at the very heart of the city's tourism and business district will help bring some balance and perspective to a city famous for galvanizing country and bluegrass.
At one time it was envisioned as a locally focused arts and culture institution. For a while it was going to be an anchor on Jefferson Street, the hub of Nashville's vibrant blues and R&B scene of the 1960s. But after a lot of debate and modifications, it's settled and it's more ambitious than ever, with a $48 million budget and a projected 56,000 square feet of space.
Recently, in the waning days of June, Black Music Month for 2018, I caught up with the team working toward the city's biggest museum launch since at least 2001 and perhaps ever. Grand opening is set for December 2019, but they're already educating the public and throwing parties. This one was at Legend's Corner on Broadway at 5th Ave., opposite the Bridgestone Arena. Across 5th, there's a big hole in the ground where concrete is being poured.
On stage, six piece Nashville band Bizz & Everyday People has launched into a three hour set of R&B, blues and soul. They wear matching black t-shirts bearing the name and the acronym that tonight's hosts wants you to know. The National Museum Of African American Music. Say it "Na-MAAM" Write it NMAAM.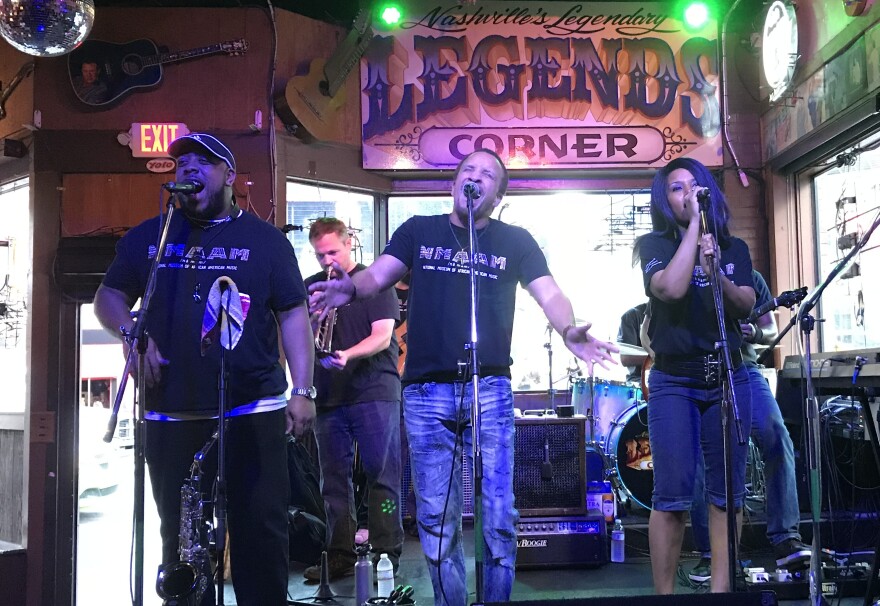 "This is the Emerging Artist Series at Legends Corner, to get local artists in front of diverse audiences," said Crystal Hardison, public programs manager, adding that the museum has been doing outreach, education and events since 2012. "We approach it as a museum without walls. We are able to go out and service the community in that way, so we go to where you are versus you coming to see us."
As for the day that we will be able to visit them at 5th and Broadway, Hardison and her colleagues are understandably enthusiastic. "Oh my goodness. I don't even know if there's words for it," she says. "Just now that it's almost tangible, actual brick and mortar that people can come to visit us and can actually see the history we're trying to preserve, it's an unbelievable feeling."
And that brings us to the hole.
"The floor is actually being poured so we are we are literally on the ground level of the museum which is a really big deal because it took a lot to get to this point," says Dionne Lucas, the museum's director of marketing and communications. "We are finalizing contractors for interior design and for fabrication - so we are well on the way to having this thing done. And it's very exciting time for us. We think that this story is central to music history and to music culture and because of that we want (the museum) to be right in the center of the city."
There it will be, the cultural centerpiece of a $430 million mixed-use complex with a 25-story tower, situated on the former site of the Nashville Convention Center. NMAAM will spotlight aspects of Nashville's music story on a rotating basis, such as an opening day temporary exhibit on the Fisk Jubilee Singers. But the mission is national in scope, and it comes with technology to match. Twenty-five interactive installations are being readied. A theater with immersive multi-media projections will transport visitors to iconic moments in music history, including Woodstock and Whitney Houston's 1991 performance of the National Anthem at the Super Bowl.
The heart of the story will be told in galleries dedicated to five core traditions of African American Music.
"Wade In The Water addresses religious music. A Love Supreme addresses jazz," says Senior Curator Dr. Dina Bennett. She rounds out the big five with a blues gallery called Crossroads, an R&B section called One Nation Under A Groove and a hip-hop gallery to be named later. As broad as that terrain is, encompassing nearly the entirety of popular music, Bennett says her team is focusing the museum's narrative by letting social history guide them.
"The music is also story of the people, that makes it easy because you're talking about a chronological sequence of events - cultural, historical, social - that have given rise to these different genres. People in transition, people in struggle, people in celebratory mode. That helps us to make key decisions on what should be highlighted."
Illuminating transitions and connections is paramount, she says, so at the hub of the museum will be a Rivers of Rhythm feature, a high-tech, high-touch installation that will show blues icons like Robert Johnson directly influencing The Rolling Stones and James Brown beats being sampled by hip hop producers years later.
Bennett cites another example: "During the rock and roll period there were songs by black musicians and artists and there were white musicians and artists who covered those songs. And those songs made a hit. I mean the hit for Elvis Presley, 'That's All Right Mama' was a song by Big Boy Arthur Crudup."
And Bennett demonstrated how gospel songs became civil rights anthems, singing the example of "Woke Up This Morning With My Mind Stayed on Jesus" becoming "Stayed on Freedom" in the 1950s. "You're reaching back into the sacred era. You're putting a secular kind of veil on it," she says.
Fellow curator Dr. Steven Lewis says that ethos of connection has to extend to the here and now - to very contemporary lenses on monumental stories - like that of jazz - that often get obscured by pop culture.
"I think that one of the most exciting things happening in music right now is directly implicated in jazz and that is the work of Kendrick Lamar and his collaborations with say Kamasi Washington, the jazz saxophonist," Lewis says. "You know for the past decade or more musicians like Robert Glasper have been doing very exciting things and combining jazz with hip hop. So I think there's some really wonderful cross pollination happening."
Thus for young visitors - and they expect a lot of young visitors - Lewis says the museum will lean into the stars of today with a not so hidden agenda: "What we would hope and what we think will happen when they come out of the museum is not only will they understand the way that all these different musical traditions are interconnected and share a common core of these African musical traditions they also have a better sense of the way that the development of this music is inseparable from the progress of African American and American history."
Fundraising for NMAAM is ongoing but organizers say they are well over halfway to their goal for the private component of the funding. City and state grants will cover about 40 percent of the total budget.
In a recent radio address called The State of Black Music for 2018, NMAAM's CEO Henry Beecher Hicks cited positive statistics and trends in the marketplace about hip-hop, R&B and black music in general. "Black music is America's music," he said. "It's global music. It crosses boundaries of culture and race and geography; bringing us together in moments of joy, celebration, challenge and contemplation. Black music is, in a word, transcendent."
The mission of the museum is quite vast, a calling and story that stretches from the origins of the North American slave trade to Beyoncé's recent epochal performance at Coachella and beyond.
VISIT THE NMAAM WEB SITE HERE.
stobm-hbh_voice_only.mp3
LIsten to Henry Beecher Hicks on the State of African American Music here.