AmericanaFest Day Stage Features 18 Artists
The 2019 AmericanaFest Day Stage, presented by NPR Music, WMOT Roots Radio, World Cafe/WXPN in Philadelphia and the Tennessee Performing Arts Center (TPAC) will be held at the historic War Memorial Auditorium in Nashville from September 12-14. Open to AmericanaFest badge holders/wristband holders and WMOT members, the AmericanaFest Day Stage will feature live performances from 18 artists over three days. Audio from the show will be broadcast live on WMOT 89.5 FM, reaching listeners in more than 40 counties across middle Tennessee. Those outside the broadcast area can listen online at wmot.org or watch the live video stream at VuHaus.com
Thursday, Sept. 12
12 pm: Robert Randolph & The Family Band
Celebrated pedal steel virtuoso Robert Randolph kicks off the 2019 AmericanaFest Day Stage with his distinct brand of electrifying sacred steel music. Backed by The Family Band, Randolph combines elements of rock, soul, gospel, funk, and jam band into an instantly recognizable sound that's garnered three Grammy nominations and opening gigs for Eric Clapton and Dave Matthews Band. Robert Randolph & The Family Band's most recent release, Brighter Days (Mascot Label Group), shows the group returning to their gospel music roots and was produced by Dave Cobb (John Prine, Jason Isbell, Brandi Carlile).
1 pm: The Mavericks
The year 2019 marks an important milestone for genre-bending maestros The Mavericks, who originally formed 30 years ago in Miami, introducing their own mix of Tex-Mex, rockabilly and Latino country music to the world. After multiple country Top 40 singles, ACM Awards, CMA Awards, and a Grammy, the band went on hiatus in the early 2000s. While the band members — including lead singer Raul Malo — pursued other projects for several years, they reunited in 2013 with the release of In Time (Big Machine Records), and were embraced by the Americana community. The Mavericks were named "Best Duo or Group of the Year" at the 2015 Americana Music Association Honors & Awards show.
2 pm: Tami Neilson
It's not easy to follow The Mavericks on a bill, but fans of powerhouse singer — Rolling Stone called her "a fire-breathing belter" — Tami Neilson know that she has nothing to worry about. The versatile vocalist has been compared to Wanda Jackson and Patsy Cline (perhaps aided by her retro-inspired stage attire) but Neilson is a distinct artist in her own right. After years of performing across North America with the Neilson Family Band, the Canadian-born artist moved to New Zealand and embarked upon a solo career, where she experiments with classic country, R&B, swing and rock and roll.
3 pm: Aaron Lee Tasjan
Known for witty songwriting and guitar skills that landed him lead guitarist gigs with the New York Dolls and Drivin' N' Cryin's Kevn Kinney, Aaron Lee Tasjan fuses elements of punk, glam, folk and country rock into his music, exemplifying the genre-bending eclecticism that the Americana format welcomes. The 33-year-old artist, who now calls Nashville home, dove further into power pop and psychedelic rock on his 2018 release, the critically-acclaimed Karma For Cheap, which landed at No. 2 slot on the Nashville Scene's ranking of best albums of the year. In August 2019, Tasjan released a stripped-down version of the album, aptly titled Karma For Cheap: Reincarnated.
4 pm: Shawn Colvin
When Bonnie Raitt honored Shawn Colvin with the Americana Music Association's Trailblazer Award in 2016, Raitt praised how the Americana Honors & Awards show recognized artists who "don't quite fit into shoes off the shelf." For more than four decades, Colvin has refused to fit into anyone's shoe, yet that didn't stop her from achieving mainstream success with the 1998's GRAMMY-winning single "Sunny Came Home." This September, the masterful guitar player and elegant songwriter will release a 30th anniversary acoustic edition of her 1989 debut, the GRAMMY-winning Steady On, and will surely continue to inspire artists and fans alike.
5 pm: The Record Company
It's a story that sounds almost too good to be true: Three musicians play the L.A. bar circuit for years and are propelled from obscurity after their debut album leads to a GRAMMY nomination and opening gigs for iconic artists like Mavis Staples, B.B. King and Buddy Guy. It's been three years since The Record Company's 2016 debut Give It Back To You (Concord) launched the Los-Angeles band on this path, garnering a GRAMMY nomination for Best Contemporary Blues Album and three Top Five Triple-A radio hits. After hitting the festival circuit, multiple tours and late-night TV rounds, The Record Company headed back to the studio to record another soulful, roots rock album, All of This Life (Concord, June 2018). They'll join Blackberry Smoke on tour this fall.
Friday, Sept. 13
12 pm: Della Mae
Della Mae formed in Boston in 2009, when fiddle player/vocalist Kimber Ludiker reached out to Celia Woodsmith (lead vocals, guitar), Jenni Lyn Gardner (mandolin, vocals) and Courtney Hartman (guitar, banjo, vocals) to start a new band. They hit the road hard, averaging 220 days on the road each year, and released their debut I Built This Heart in 2011. They subsequently signed with Rounder, who released This World Of Can Be, which earned a GRAMMY nomination for Best Bluegrass album. Since, they've added a bass player, Zoe Guigueno, took a brief hiatus, and regrouped to release The Butcher Shop EP (Rounder) in March. They'll tour this fall with Steve Martin and Martin Short.
1 pm: Rising Appalachia
Sister duo Leah (vocals, banjo) and Chloe (vocals, guitar, fiddle, banjo) Smith released five self-produced albums without support from a label, instead relying upon crowdfunding to bring their multifaceted Southern Appalachian-inspired music to the masses. As world travelers, the Smith sisters have incorporated a wide variety of influences and instruments into their music. For their latest offering, Leylines, they enlisted Joe Henry to produce the album, which blurs the lines between folk, urban and world music. On and off stage, the Smith sisters are vocal activists, advocating for social justice, environmental justice, racial justice, and indigenous rights through their music and through partnerships with like-minded organizations.
2 pm: Che Apalache
North Carolina native and fiddle player Joe Troop traveled and played music around the world before finding his bandmates — and a fresh sound — when he moved to Argentina in 2010. Troop was teaching bluegrass to musicians in Buenos Aires, where he found a musical kinship with a few of his students, Pau Barjau (banjo), Franco Martino (guitar) and Martin Bobrik (mandolin). They formed Che Apalache, exploring what they dubbed "Latingrass." Their recent release, Rearrange My Heart, was produced by banjo legend Béla Fleck and released on Free Dirt Records.
3 pm: Aubrie Sellers
Nashville-based Aubrie Sellers recently released her new single, the ferocious "Drag You Down," a preview from her forthcoming sophomore effort (release date TBD). After the release of her lauded 2016 debut, New City Blues (Carnival/Thirty Tigers), Sellers has carved out a niche in what she calls "garage-country," a stark contrast to the commercial country that her mother, Lee Ann Womack is famous for. Sellers' influences draw from classic rock as much as country, and she's built her musical career the old-fashioned way, by hitting the road and tirelessly refining her songwriting. If "Drag You Down" is any indication, her second album will be another raw, soulful offering that's simultaneously easy on the ears.
4 pm: Molly Tuttle
Molly Tuttle was the first woman to be named International Bluegrass Association's Guitar Player of the Year in 2017 (an award she won again in 2018). Though she's only 26 years old, she's also been honored by the Americana Music Association (Instrumentalist of the Year in 2018), and by the Folk Alliance International (Song of the Year for "You Didn't Call My Name" in 2018). The Nashville transplant may be famous for her flatpicking guitar technique, but she's also a gifted songwriter and singer, as evidenced on her debut 2017 EP Rise and her 2019 full-length album When You're Ready, both released on Compass Records.
5 pm: Tanya Tucker
Outlaw country legend Tanya Tucker returns with her first album of new material since 2002's Tanya. Released in August 2019, While I'm Livin' (Fantasy Records) was produced by Brandi Carlile and Shooter Jennings, and features songs primarily composed by Carlile and Tim and Phil Hanseroth, Carlile's longtime collaborators and bandmates. While I'm Livin' marks the iconic artist's 25th release, and was recently lauded by The New Yorker as "the best record of Tucker's career."
Saturday, Sept. 14
12 pm: The Wood Brothers
Brothers Oliver and Chris Wood pursued separate music careers — Oliver played with Tinsley Ellis before founding the group King Johnson, and Chris was part of Medeski Martin & Wood — for approximately 15 years before joining forces. In 2006, Blue Note Records released their debut, Ways Not To Lose, which explored elements of funk, folk, jazz, blues and soul. Oliver and Chris eventually relocated to Nashville and added multi-instrumentalist Jano Rix to the lineup. For their latest release, the self-produced One Drop of Truth, the band took a more experimental approach, recording each track without the constrictions of a set timeline. They employed multiple mixing engineers for the final tracks, allowing each song to evolve as its own entity, like a collection of short films.
1 pm: Rob Ickes & Trey Hensley
The musical partnership of acoustic duo Rob Ickes and Trey Hensley is one of those only-in-Nashville stories. Guitar prodigy Ickes dominated the International Bluegrass Music Association's Dobro Player of the Year category for 15 years and played with Earl Scruggs, Alison Krauss, Merle Haggard and Reba McEntire. Hensley made his Opry debut at age 11 and later opened for iconic artists including Johnny Cash, Peter Frampton and Charlie Daniels. When the two musical phenoms joined forces, they recorded their debut album, the GRAMMY-nominated Before the Sun Goes Down, in a couple of days, capturing the raw energy of their magnetic live performance. They'll release World Full of Blues, featuring cameos from Vince Gill and Taj Mahal, in October on Compass Records.
2 pm: Allison Moorer
On October 25th, Allison Moorer will release her first solo album in four years, Blood, followed by the release of her memoir of the same name. Moorer has never shied away from difficult subjects in her songwriting, including losing both of her parents as a teenager, or, more recently, her son's autism diagnosis. While Moorer found commercial success early in her career — she received an Academy Award nomination in 1999 for Best Original Song with "A Soft Place to Fall," — she never appeared to feel confined to the commercial country playbook. Instead, she followed her own artistic instincts wherever they led, creating a catalog of critically-acclaimed albums that have been welcomed by the Americana community. In fact, in 2002, Moorer penned a bio for the release of her album Miss Fortune that could be the Americana genre's manifesto: "Do me a favor — don't worry about what bin it's gonna go in at the record store."
3 pm: The Get Ahead
This family band of sorts — the band is comprised of two married couples, Juliet Howard and Nathan Earle along with Angie and Danny Johnson, plus longtime friend Sean Farrell — The Get Ahead formed in 2012 in Portland, Oregon, with an intention to create music to make people dance. This birthed a fertile ground for experimentation in which the band explored elements of R&B, gospel and soul music, leading to their 2017 release, Mind Is a Mountain, which was produced by Son Little. Their latest offering, the melodic, psychedelic-tinged Deepest Light, manages to be simultaneously soul-searching and fun. And, true to the band's original intention, it's downright danceable.
4 pm: Jade Jackson
California native Jade Jackson started writing songs at the age of 13 and penned more than 300 songs before graduating high school. She also started performing publicly as a teenager, and a stripped-down coffeehouse performance caught the attention of Social Distortion's Mike Ness's wife and son, leading Ness to produce Jackson's debut album Gilded, released by ANTI- Records in 2017. Jackson's precocious, world-weary vocals have drawn comparisons to Lucinda Williams and Lydia Loveless, and her sophomore offering, Wilderness — also produced by Ness — captures a young artist making her way through the unknown.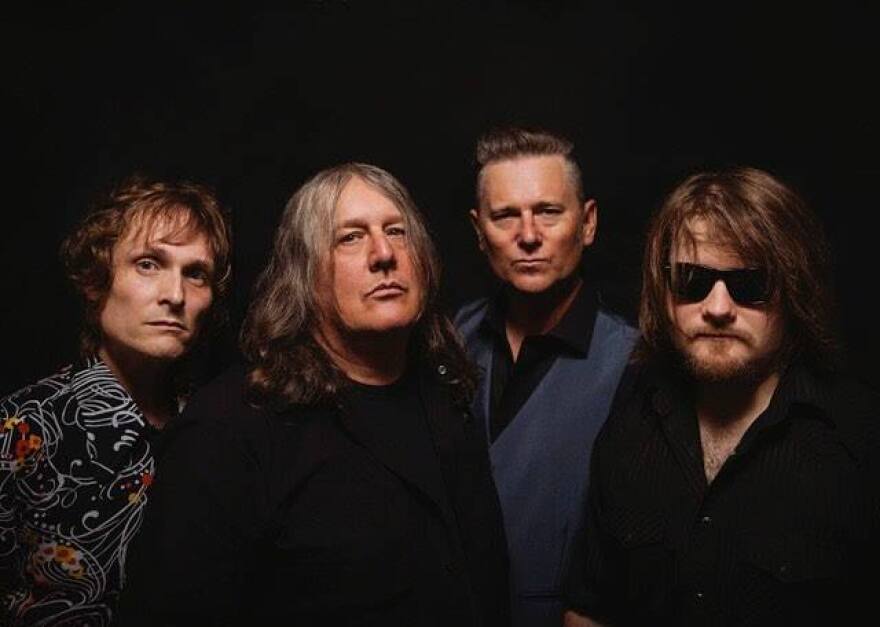 5 pm: Drivin' N' Cryin'
Since 1985, Southern roots rockers Drivin' N' Cryin' have blurred the lines between hard rock, folk, country and alternative music, gaining a dedicated following that remains loyal to this day. Founded by guitarist/vocalist Kevn Kinney and bassist Tim Nielsen, the group quickly made a name for itself in Atlanta's thriving mid-'80s underground rock scene and enjoyed steady rotation on college radio before landing a record deal. Despite some commercial radio success, label issues plagued the band, and Drivin' N' Cryin' took a break while Kinney explored solo projects. Kinney and Nielsen reconnected in 2001, forming a new incarnation of the band, which later featured noted guitarists Sadler Vaden and Aaron Lee Tasjan, who produced Drivin' N' Cryin's 2019 album, Live the Love Beautiful.
Abby White, Nashville-based music correspondent for WMOT Roots Radio