Nanci Griffith's Rise And Legacy On Two New Releases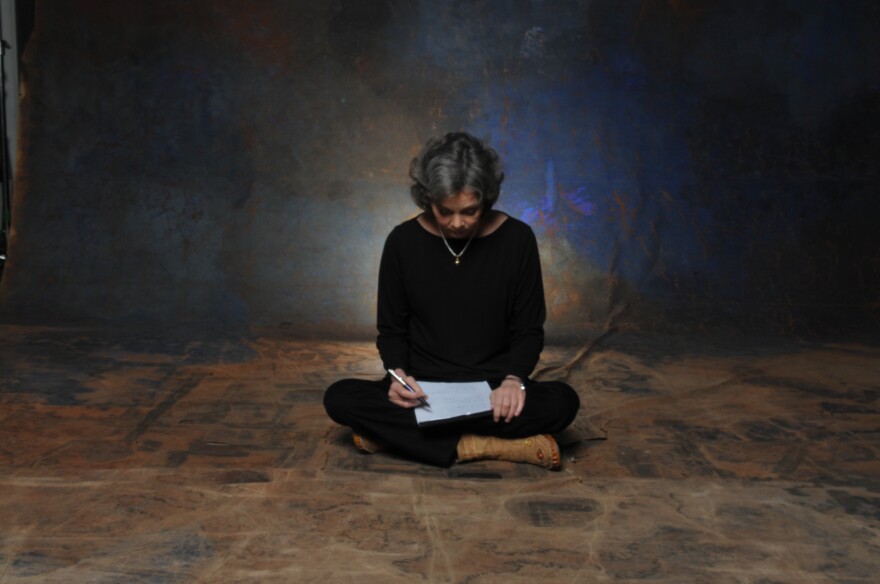 They say you can learn a lot about a person by looking over their library, and one way Nanci Griffith made herself known was to bring her favorite books to the people. On her early albums, there's usually a book in the picture, a little easter egg telegraphing a seriousness of purpose and a love of language and character. On 1982's Poet In My Window, it was Thomas Wolfe's Look Homeward Angel. On the cover of Once In A Very Blue Moon, her 1985 breakthrough, she's seen reading Eudora Welty's Delta Wedding.
Griffith brought a similar evangelism to her passion for songs and other songwriters, for even as she was developing as an artist in the clubs of Houston and Austin in the very early 1980s, she was inclined to perform the work of others alongside her own. Her longtime friend Jimmie Dale Gilmore, said, "When Nanci recorded 'Tonight I Think I'm Gonna Go Downtown' I was thrilled. Nanci had a real love for all of the other songwriters and always shared their songs." She also coaxed along her friend Lyle Lovett, who opened for her regularly in the early days, and her cover of "If I Were The Woman You Wanted" was a boon to the eccentric fellow Texan.
These stories and memories come from the extensive narrative liner notes to Working In Corners, a new collection of Griffith's first four albums recently released in digital, CD and LP formats by Craft Recordings. The main essay by Griffith's producer and booster Jim Rooney covers her early career in loving detail, told with extensive passage transcribed from Lovett, Gilmore, and many others who were close to a life they all regard as sparkling, rare and bright. Writer Holly Gleason contributes a second essay from a fan's perspective.
And yet this box set isn't the only nod to Griffth marking the two year anniversary of her death at 68. Craft's sister label Rounder Records has issued More Than A Whisper: Celebrating The Music Of Nanci Griffith. It's a various artists/various producers album executive produced by the artist's one-time manager Ken Levitan and former Rounder Records President John Strohm. Its 14 tracks find some of Americana's best musicians and record makers bringing something fresh to great Nanci Griffith songs, plus her greatest cover. It's a beautiful collection by any measure from the opening cut.
That would be Sarah Jarosz working in the familiar coziness of Jon Leventhal's New York studio where she made World On The Ground. Here she sings "You Can't Go Home Again" from the Poets album, bringing a richer, more rhythmic take than Griffith's original. Another dreamy update is the more famous "Gulf Coast Highway" performed by Brandy Clark. Seeing Clark at AmericanaFest I was reminded what a rich and subtly moving singer Clark is, and her turn on those sweet lyrics about ascending to heaven on blackbirds' wings is glorious. It's been covered by Emmylou Harris, Bruce Springsteen, and Kate Rusby, but the Jedd Hughes production here results in one of my favorite cuts of the year.
Some of Griffith's oldest friends and champions are on the collection, including John Prine, who sings "Love At The Five And Dime" with Kelsey Waldon and Lyle Lovett, who covers "Trouble In The Fields" with Kathy Mattea, who was herself a vessel for Griffith's emergence when she had a hit with "Five And Dime" in 1986. Emmylou Harris joins in with her first recorded track in quite some time. The cajun-tinged selection is the lesser-known "Love Wore A Halo (Back Before The War)," a classic Griffith love story.
Another great track brings Molly Tuttle and Billy Strings together for a duet on "Listen To The Radio," one of Griffith's catchiest hits. It's the pure voice and guitar collaboration I've been longing for from them. (An album like this would be welcome!) And speaking of songs good for driving, don't miss Todd Snider's iteration of "Ford Econoline," with its perfect country punch and tempo. As the collection comes to a close, we get "More Than A Whisper," cut by Mary Gauthier who contributes a liner note essay in which she says Griffith's music "provided a life raft when I needed it most." And in a savvy move, the album ends on a bold and spiritual note as The War and Treaty bring pop gospel energy to "From A Distance," the Julie Gold song that Nanci made famous.
Griffith was born in 1953 and raised in Austin, TX in a family that encouraged her music. By 12 she was testing out the coffee house circuit and had a professional show at age 14. After college she taught elementary school for a time but quit to make music her living in 1977. A win at the Kerrville Folk Festival alongside shows at Austin and Houston clubs landed her an opportunity to record her debut album, There's A Light Beyond These Woods, in 1978 for the tiny, ironically named B.F. Deal Records.
Rooney's notes for Working In Corners place Griffith in the vanguard of a "second wave" of Texas songwriting, along with Lucinda Williams, Butch Hancock, Lyle Lovett and Robert Earl Keen. But if those others came from a place of country grit and the blues, Griffith emerged as a throwback folk singer. So on the first disc of the box set, we hear a young voice apparently influenced by Joan Baez and Joni Mitchell. It's sweet and pure, but over the next three albums we hear her grow into the more assured "folkabilly" voice that established her as a cherished national and international force.
For me, the sound and magic really lock in with her third album Once In A Very Blue Moon, her first on the prestigious Philo label in 1985. This first album with producer Rooney delivers a fuller band and richer sound supporting amazing songs like "Love Is A Hard Waltz," "I'm Not Drivin' These Wheels," and "Spin On A Red Brick Floor," my first favorite Griffith song. Charmed covers come from the pens of Lovett, Bill Staines ("Roseville Fair"), and frequent collaborator Pat Alger (the title track).
The fourth and final album in the Craft collection is The Last Of The True Believers, Nanci's first record after moving to Nashville and a career-best masterwork. Her voice has that signature percussive snap from the opening title track. Lloyd Green's pedal steel is part of a Music City ensemble that enriches the lovely Alger song "Goin' Gone". And as the Woolworth's setting of the cover shot (book cameo by a biography of Tennessee Williams) implies, this is where Griffith introduced the devastatingly romantic "Love At The Five And Dime," a song that'll bring me to tears unless I make an effort to resist its charms. But why resist? This album earned the artist a Grammy nomination for Best Folk Album and the attention of Nashville's Tony Brown, who signed her to MCA Records, ushering in the next chapter of her career.
Griffith released 18 studio albums overall and cruised to a Trailblazer Lifetime Achievement Award from the Americana Music Association in 2008. With her savvy blend of emotional folk and earthy country music, she was indeed an Americana architect. These two new collections offer a clear view of how she came into her own and how her songs have thrived across the decades.