Granville Automatic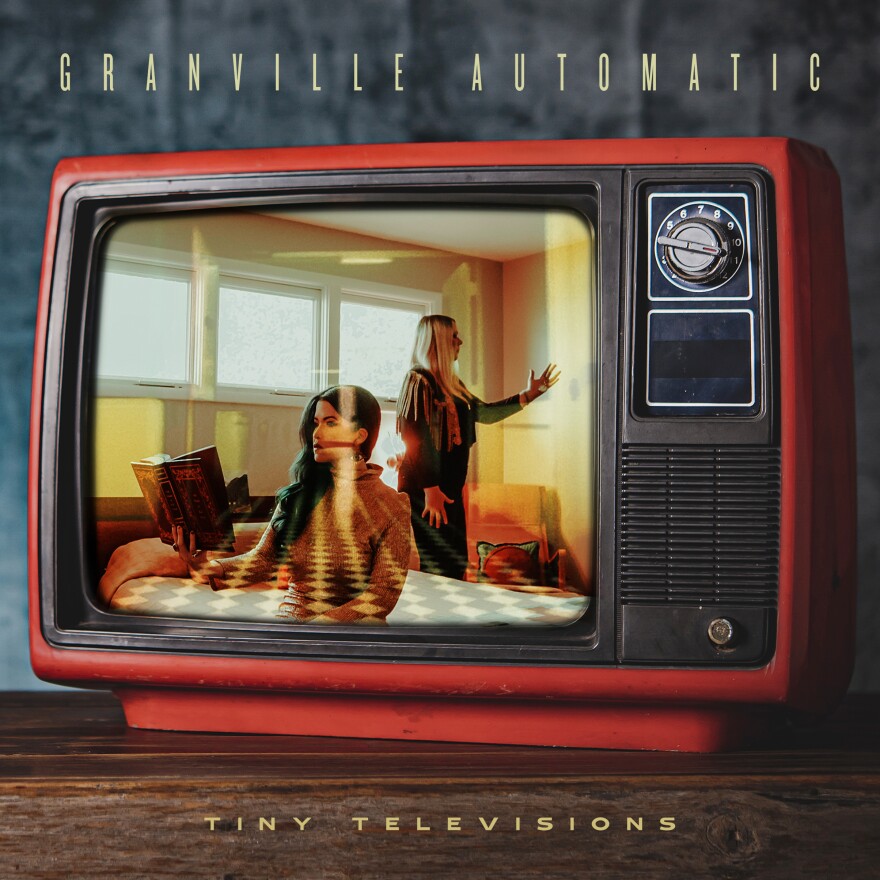 A shared love for nostalgia, including stories and items like the 19th century typewriter this Nashville duo is named after, Granville Automatic has just announced their first ever book with a companion album to follow. I caught up with Elizabeth Elkins and Vanessa Oliveraz via email about these summertime releases and a Livestream Stageit show they have planned for Thursday, May 28th:
AnaLee: Your previous releases have sort of been like history books and your most recent in particular, Radio Hymns is filled with stories about Nashville's past. When we spoke last summer for The Local Brew Hour, you mentioned a book about Nashville's "secret" past was in the works. Tell us about The Hidden History of Music Row.
Elizabeth: The book, which we co-wrote with Brian Allison, really digs into some of the secrets around 16th and 17th Avenues. It starts with Timothy Demonbreun, a fur trader who allegedly lived in a cave on the Cumberland, and who might have had 3 or 4 wives at once - and continues up to the stories behind hit songs on the radio. There's everything from Elvis to Adelicia Acklen, Garth to a potential serial killer. We each picked chapters that really inspired us, so I ended up with a good bit of the pre-Music Row history, as well as the story behind non-country albums made here by folks like Bob Dylan, Leonard Cohen and Neil Young. We got to interview some amazing people, from country stars to history buffs, songwriters, managers, etc. We wanted to truly write it from the perspective of two songwriters who work on Music Row, but love history and want to preserve this unique space. And I will say, we wrote our parts in two very different ways. I wrote a chapter a month in the six months we had. Vanessa wrote all of hers in about two weeks before deadline. And, of course we were on tour then, so you can imagine that was a fun two weeks.
Vanessa: The Hidden History of Music Row is simultaneously a factual and artistic look at the history of the area - as well as the buildings that have come and gone over Nashville's vast and varied past. It is because of the amalgam of personalities between me, Elizabeth and Brian - two left brains and a right - that the book morphed into a read that runs the gamut; from ghost stories to cheating spouses to suicide windows.
AnaLee: A new album follows the August 31st book release. Tiny Televisions is due September 11th. How did the book process influence this record?
Vanessa: At some point during the stress and the almost murder of one or both of us (Elizabeth and me), I suggested it might be nice to incorporate another form of information absorption through the power and influence of music. By releasing an album in conjunction with the book, we may get some interest from folks we might not have hooked otherwise - people like me who don't necessarily WANT to dive right into pages of historical whimsy. Think of the record as the silver fish at the end of an endless line. Artist brain bait.
Elizabeth: The title of the album (and a song) is literally from the book. I was working on a chapter about the Little Sisters Home for the Poor at the corner of 17th Avenue and Horton. It was a Catholic home for the poor in the early 19th century, and later become BMG Music and then Sony. Now it's owned by Vanderbilt. But there were so many fascinating stories from this building. It's almost magical. One of the guys who rode up San Juan Hill with Teddy Roosevelt was there for a while, he murdered a few people when he came back, but got away with it. But after the sisters left, and before BMG moved in, it was an elderly care facility. The developer walked in soon after he bought the building, and he remembers old folks sitting on the floor of the chapel, "staring at tiny televisions". At this point, there were rumors of people committing suicide out of the top floor windows. And, then, soon thereafter, BMG and Sony were having #1 Song Parties in that same chapel. That hit me hard. We wrote "Tiny Televisions" with Matt Nolen. And it's probably my favorite Granville song ever. The other songs came from book research, and some were subjects meant for Radio Hymns that didn't get finished in time but finally found their space. I'm proud that we tackled more challenging topics this time - not only trying to write from the point of view of somebody in their 80s - but also writing from the perspective of Nashville's first African American business owner ("Ice Cream", about Sarah Estell, a free woman before the Civil War, who "owned" her husband to keep him from being sold) and native Americans ("Monsters in the Stars", about the Trail of Tears).
AnaLee: Tell us about next week's Livestream Stageit show.
Elizabeth: Well, we have barely seen each other since our last shows with The SteelDrivers in Texas the last few days of February. We debuted one of the new songs at those shows, but we haven't even rehearsed the other new songs, or played them other than when writing them and in the studio. So it's going to be a bit, um, raw. But we plan on telling more about the songs, the recording and the book itself. As well as some surprise news about, well, another book. We will be broadcasting live from the banks of the Cumberland River on Vanessa's backporch.
Vanessa: Ha! You never know what's going to happen with us. You'll have to tune in. Spectacles a plenty are promised. And probably some new songs from the record!
Album: Tiny Televisions - September 11, 2020 (independent release)
Book: The Hidden History of Music Row – August 31, 2020 (The History Press)
Livestream Stageit show: Thursday, May 28 at 8pm ET/7pm CT 
The radio premiere of the song, "Getaway Car", from the new album, Tiny Televisions will air on the next Local Brew Hour, Sunday at 7am with a replay Monday at 7pm. Here's a stand-alone single Granville Automatic released in January called "Twentynine Palms."
Ana Lee is on middays at WMOT, and is also the host of The Local Brew Hour, which airs Sundays at 7am and Mondays at 7pm on 89.5 WMOT and wmot.org.