Long Voyages And Balancing Acts: Notes From Nashville's Tattletale Saints
It's a long, long way from New Zealand to Nashville – 24 hours of flights and layovers one doesn't want to make in reverse after Music City has kicked your butt. Happily, songwriters Cy Winstanley and Vanessa McGowan go home to Auckland when they want to and on their own terms. Their stature, back home and back here, is secure as working side musicians and as the roots duo called The Tattletale Saints. They're a parable of modern Nashville's global reach and open arms.
The Saints had a bit of an entrée when they first arrived in 2013, namely an invitation from master bluegrass songwriter and musician Tim O'Brien who wanted to produce their debut album. The result was the heart-felt and down-home How Red Is The Blood, which was named Folk Album of the Year at the New Zealand Music Awards. Successful at home, the two musicians settled abroad, becoming part of the Nashville music community.
"America's (our) home at the moment, but I was born in New Zealand and I love it very, very much," he says. "I moved away predominantly because there are more opportunities for music in the US. New Zealand has actually got a really great creative community. But the population is four or five million and the communities are very disparate, so touring full time is not practical."
That said, the interview presented with Winstanley here was taped on the eve of a three-week New Zealand tour by the Tattletale Saints, something they do roughly annually. They're on the ground now, negotiating two-lane highways and mountain passes straight out of Peter Jackson's Lord Of The Rings to play in places called Wanganui, Te Puna and Kohukohu. Impelled by the deadline of the tour, they pulled together Dancing Under The Dogwoods their third album. And in it, one hears some of the musical values that attracted Tim O'Brien back when - a rhythmic ease, instrumental mastery and human-scale stories told in watercolor harmonies.
All that said, when they're stateside, Winstanley and McGowan are in Saints mode, their "passion thing," less than they are in professional musician mode, supporting a variety of artists in stage and studio settings. He is a crackerjack guitar player who tours with songwriter Rachel Baiman and Peter Bradley Adams, among others. She is an academy trained jazz bass player who's been on the road recently with Brandy Clark and Sugarland. The dichotomy works for them both.
Reached by email on the road, McGowan told me that she schooled up (at University of Nevada at Las Vegas) to be a working musician. "Being a sideman was always something I wanted, so it doesn't feel like a consolation prize now to be doing that in Nashville," she said. "Having said that, I do love playing in my own band and the creative freedom that comes with that. It would be nice to be doing it more, but being a touring musician for other people pays the mortgage and allows me to put money into my own band - which is a setup I feel incredibly grateful for."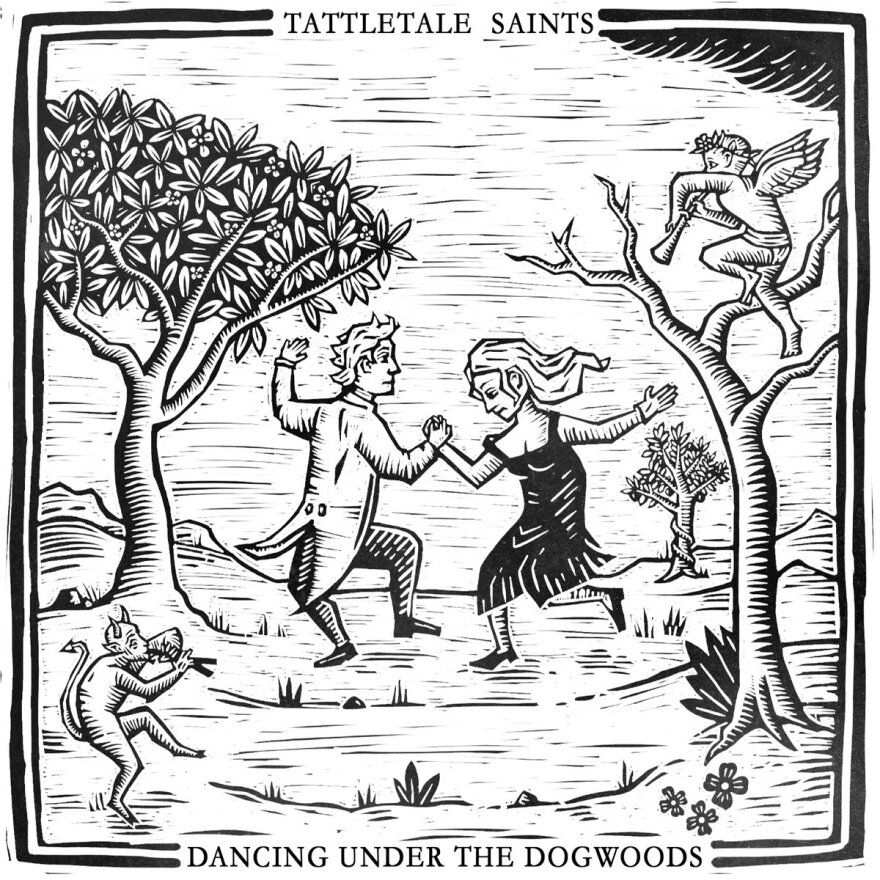 The musicians met in a high school jazz band back in Auckland, but they truly connected years later as their careers started rolling. In the meantime, Winstanley had been seduced by American roots and bluegrass. It began, he says, when a stranger approached him during a gig in a pub where he played Irish folk music. The fellow was a rep from Border's bookstores who gifted him with albums by Jerry Garcia's bluegrass band Old And In The Way and Tony Rice. Those opened up a new frontier. "We started playing 'More Pretty Girls Than One' and songs like that," he said. "That's how I got into it really. Just from that one guy who came into that bloody, boozy Irish pub."
He and McGowan set up in London as a romantic couple and as professional players, mostly working the jazz scene. And that's when the folk duo began to take shape, and McGowan relates how that changed her outlook. "I wasn't at all a singer, and I really resisted it, feeling super self-conscious about my voice," she says. "I'm grateful to him for pushing me to sing, because now it's a huge part of what I do professionally and something I really enjoy. I can honestly say I wouldn't be doing what I am now professionally and musically if it weren't for Cy."
In another sign of everyone here being really nice and growth-minded, the Saints duo survived their romantic breakup, and now they describe one another as best friends and a mutual admiration society, even as they balance music for others with music for themselves.
That feeling of arrival and accomplishment is part of the bulwark of the song "Here At Last," the final cut on the new Dogwoods album. "Here at last, it's here at last/the dream we had/is in our grasp....the years we gave/were not in vain," Winstanley sings, evoking personal goals at the micro level as well as hard-won societal shifts, those accomplished and those in progress. Opening the project is the Cajun-inflected title track, which evokes the carefree romance of a southern Summer, set to the fiddle of Oliver Craven, formerly of the Stray Birds. The album is largely acoustic with a rhythm section, so songs like the wonderful, keyboard centric "My Loving Doesn't Cost A Wish" feel both translucently folky and grooving. The track "D.I.N.K." is a quirky topical look at the improbably controversial Double Income No Kids lifestyle. A cover of ABBA's "Dancing Queen" shows an ability to reinterpret a classic with fresh and sensitive vocals.
If all this sounds good, maybe you can greet them at the airport when they're next back from New Zealand. It's a hell of a flight.