Thriving Roots Replaces AmericanaFest With An Unprecedented Online Gathering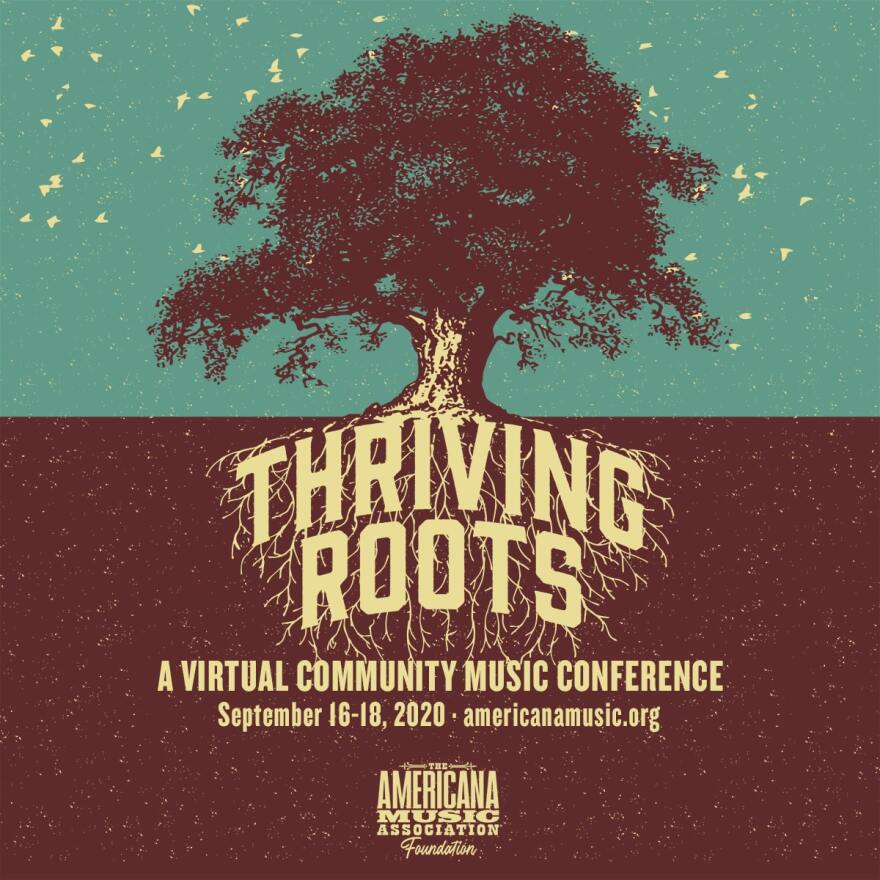 With the weather turning cooler and the national live music lockdown grinding on into the foreseeable future, the pain of missing a vivacious, in-person AmericanaFest 2020 is starting to set in. Under normal circumstances, we'd be penciling in our calendars, looking up attendees we'd like to meet with and researching showcasing bands. Alas, that's not what's in store. But there is a plan.
Perhaps the first thing to know about this year's AmericanaFest is that it's not "AmericanaFest". The Americana Music Association rejected the idea of trying to reproduce its annual celebration online and instead thought it better to imagine a unique event for a unique year. Thus we get Thriving Roots, a "virtual community music conference" set for Sept. 16-18 over the Seattle-based platform Pathable, Inc.
"We did not feel like we could give the artists their due by trying to recreate the showcase and music festival side of (AmericanaFest) in a virtual space," said Education and Program Director Danna Strong on an AMA staff group call on Friday. "We wanted to step the conference up. That's where Jed (Hilly) led with going to some high-profile artists in our genre and community and seeing if they were willing to participate. And we also chose, knowing our demographic well, things that were more DIY level. You'll see some programming along those lines."
Hilly, the AMA's executive director, says that outreach started with Rosanne Cash, a celebrated songwriter who has, over the years, been enthusiastic about bolstering AMA initiatives. "About 24 hours later she was like, 'I want to do a history of protest songs, and I'm going to call Bonnie Raitt and Ry Cooder and (author) Alice Randall and I want to call (activist) Angela Davis.' And we all fell out of our chairs," Hilly told WMOT. "That was really the first one, which set the stage for a combination of a music industry business conference, but we can add an element of master class into that."
Other artist-driven "master classes" emerged. Bob Weir wanted to explore African American influences on the Grateful Dead's music and repertoire, and he pulled in bass player Oteil Burbridge to participate. Taj Mahal invited Rhiannon Giddens for a conversation about the healing power of music, with Ann Power of NPR as moderator. Emmylou Harris and Ken Burns will discuss the impact of Burns's Country Music PBS documentary one year after its premiere. Filmmaker and writer Judd Apatow made a documentary about the Avett Brothers a few years ago, and he'll join them for a discussion of music on film.
More traditional professional and business panels abound on subjects including streaming strategies, the new world of the Mechanical Licensing Collective, brick and mortar record stores, the politics of saving music venues and agencies during coronavirus and equal opportunities for women and African Americans in the format. A complete schedule of workshops and panels can be found here.
Hilly points out that without band showcases as the focal point of the 2020 conference, Thriving Roots marks a coming out party for the new AMA Foundation, which was announced in June. Where AMA has been a trade association, this 501(c)(3) will raise funds more explicitly directed than ever before at preservation and education, chiefly through a new Thriving Roots Institute, which AMA said is "an initiative bringing together artists and educators to address historical precedents, milestones and pathways for artists in the future." The archived panels from Thriving Roots 2020 will be part of a library available to registrants on an ongoing basis, Hilly described as one example.
As for the conference platform holding our gaze for three days, AMA's Director of Marketing and Research Sarah Comardelle said she and her team looked over about 15 different web event packages before deciding on Pathable. "We wanted a platform that allowed for networking opportunities and conversations and actually encouraged it," she said. "You can see all of the attendees in a list. You can direct message with them in the platform. But you can also set private (video) meetings. So, if I wanted to meet new people and have a 15-minute chat to see what their company does, I can set that up through the platform so it's not a cold call out in the world. It's much like meeting somebody out in the hallway."
Less clear at this late date are the contours of the annual Americana Honors & Awards. The plan has been to stage a hybrid live streaming event from the Ryman Auditorium on Sept. 16, but Hilly said on Friday that the changing city rules for indoor groups have injected uncertainty into the situation. SEE UPDATE BELOW.
"There is no way today we can do the awards show in the manner we've done it for the past 20 years," Hilly said. "We don't want to put anybody in harm's way. We are still talking to a handful of partners to try to figure out the right way to do this. But we haven't made an announcement."
And be assured, there will be live performance dotted liberally throughout the three days of digital action, presented by labels and music groups from around the country. Names on the calendar now include Lori McKenna, Kathleen Edwards, Colter Wall, The Mavericks, Courtney Marie Andrews, Sheryl Crow, Ray Wylie Hubbard, Ben Harper and a John Prine tribute.
"We came up with Thriving Roots because we really feel like our community and the Americana space is special and can thrive in any condition," Comardelle said. "It's roots music but we're also going back to our roots, and together we can get through it."
UPDATE: On Friday morning, AMA's Jed Hilly released the following statement indicating that the Honors & Awards will be postponed to a later date:
"I write today to inform you that despite all our hope, logistical wrangling and passion, we have concluded that it would not be safe to conduct the Americana Honors & Awards at the wonderful and historic Ryman Auditorium next Wednesday, September 16, 2020. We've carefully evaluated safety measures both with an audience and without. It is our conclusion that if just one person walked out of the Ryman with COVID-19, we would not be able to forgive ourselves. We are making new plans to celebrate the nominees and to proclaim the winners later this fall, and we hope to have details on that shortly with an official announcement date soon."