Nashville's COVID-19 numbers are 'in the green,' a Phase 2 announcement likely soon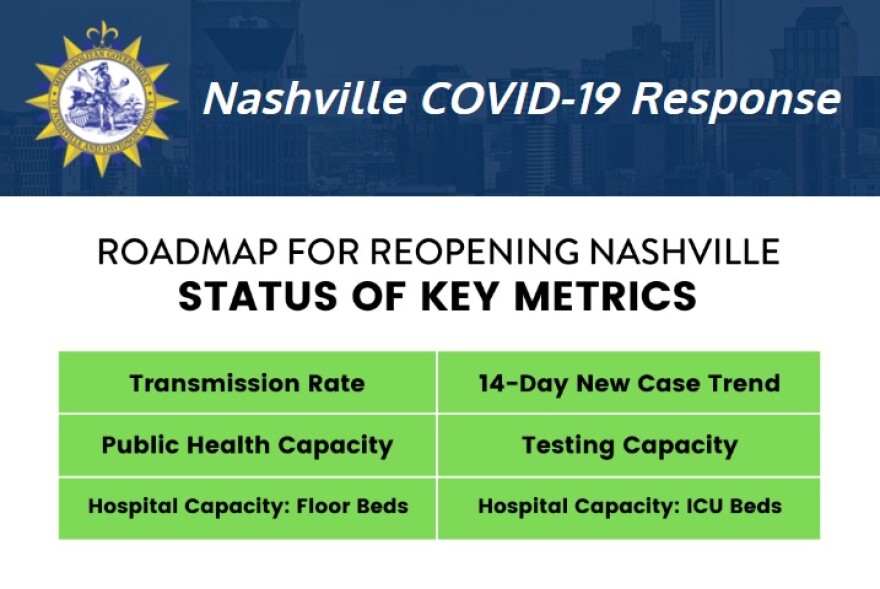 NASHVILLE, Tenn. (Mike Osborne) -- For the first time, all six of the metrics Nashville uses to gauge its progress against coronavirus are now "in the green."
The "14 Day Case Trend" reported satisfactory numbers for the first time Monday on Nashville's pandemic response dashboard.
The other five metrics being followed include the virus transmission rate, public health capacity, testing capacity, the number of open hospital beds and the number of open ICU beds.
Task Force Chair Dr. Alex Jahangir thanked Nashvillians, saying "You helped us flatten the curve," but he also cautioned that COVID-19 "can still have a devastating impact on our community unless we continue to fight it."
When a reporter asked if positive numbers across all metrics meant Nashville might soon move to the next phase of its plan for restarting the city's economy, Dr. Jahangir responded that a decision about Phase 2 would likely be announced by week's end.